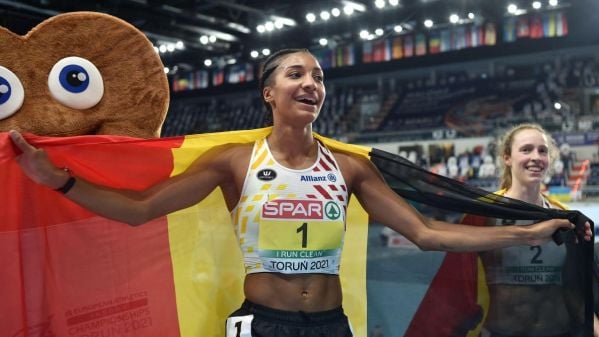 Reigning Olympic heptathlon champion Nafissatou Thiam won her second European Indoor gold medal in the pentathlon setting a world seasonal best of 4904 points. Thiam broke the previous Belgian indoor record held by Tia Hellebaut with 4877 points.
Vidts complete the Belgian double setting a PB with 4791 points. Krizsan claimed the bronze medal with her lifetime best of 4664 ahead of Austria's Ivona Dadic (4587 points). British 20-year-old Holly Mills finished fifth with 4517 at the age of 20 in her first senior appearance in the British team
In her previous appearances at this event, Thiam triumphed in Belgrade with 4870 points after setting a championships record in the high jump with 1.96m and finished second to Katarina Johnson Thompson in Prague 2015.
Thiam led the pentathlon competition after three events with 3024 points. The Belgian combined events star built up a 157 points lead over her compatriot Noor Vidts (2867 points).
Thiam got off to a good start with a win in her 60 metres hurdles heat in a seasonal best of 8.31 ahead of Austria's Ivona Dadic (8.38). Twenty-year-old heptathlete Holly Mills won the other heat setting the fastest time with 8.22 beating Annik Kalin by 0.01. Xenia Krizsan from Hungary and world seasonal leader Noor Vidts clocked their personal best with 8.27. Kalin did not continue the competition due to injury.
Mills, who won the European Under 18 gold medal in the long jump, took the lead in the overall standing with 1079 points after one event, while Thiam was back in fifth place with 1059.
Thiam cleared 1.86m and 1.89m in her favourite high jump event before failing three attempts at 1.92m. The Belgian star moved into the lead with 2152 points and strengthened her first place in the overall standing by winning the shot put with 15.16m ahead of Krizsan, who improved her personal best with 14.48m to take the third place in the overall standing with 2835 ahead of 2014 world indoor champion Nadine Broersen from the Netherlands.
Thiam won her third event in the long jump with 6.60m in her second attempt heading into the final event with a comfortable lead. The Namur-born star set her indoor PB with 2:18.80 in the 800 metres to seal the title.
Vidts finished second in both the long jump with 6.47m and the 800m in her lifetime best of 2:12.59. Kriszan won the 800 metres in 2.12.49 to clinch the bronze medal with 4644 ahead of Ivona Dadic.
Nafissatou Thiam: "It was a last-minute decision to compete here. I did not specifically prepare for the European Indoor Championships. I really felt this in the high jump I have not done much technical work yet. Last year was weird with no goal to aim for but now the Olympic Games seem very real. I am also happy with Noor Vidts. She deserves it and improved her PB. It is good for combined events in Belgium to have two girls on the podium ".
Men's 1500 metres: Jacob Ingebrigtsen wins his third European 1500m title
Jakob Ingebrigtsen crossed the finish-line first in the final of the 1500m at the European Indoor Championships in Torun in 3:37.56, but he was later disqualified for a lane violation. Marcin Lewandowski from Poland was promoted to gold medal position.
However, several hours later Jakob was reinstated and crowned the European 1500m indoor champion for the 3rd time in a row.
The Polish middle-distance star, Lewandowski, who had triumphed in the 800m in Prague 2015 and in the 1500m in Belgrade 2017 and Glasgow 2019, took the silver with 3:38.06. Spaniard Jesus Gomez from Spain won the bronze medal in 3:38.47 ahead of his compatriot Ignacio Fontes (3'39"66).
Jacob Ingebrigsten will attempt to become the first male runner in European indoor history to complete a 1500/3000m double.
Men's long jump: Second European Indoor gold for Tentoglou
Miltiadis Tentoglou continued his streak of European medals winning his second consecutive gold medal at this event with 8.35m in the first round in his only valid jump. European silver medallist Thobias Montler from Sweden came very close to Tentoglou by setting his national record with 8.31m in the third round claiming his second consecutive European Indoor silver medal.
Montler produced three more jumps over the 8 metres barrier (8.04m, 8.19m and 8.00m). Kristian Pulli from Finland won the bronze medal setting the national indoor record with 8.24m.
Final women's shot put: Dongmo wins her first European Indoor title
Portugal's Auriol Dongmo clinched the gold medal in the women's shot put with 19.34m in the fifth round overtaking Sweden's Fanny Roos, who went to the lead a few minutes earlier with a national indoor record with 19.29m. Christina Schwanitz from Germany finished third with 19.04m winning the fourth European Indoor medal in her career.
Final men's shot put: Stanek beats Haratyk
Tom Stanek from Czech Republic won his first European Indoor gold with 21.62m in the fifth attempt completing his full set of medals at these championships after the silver in Belgrade 2017 and Glasgow 2019. Poland's Michal Haratyk won the silver with 21.47m in the fifth round two days after winning the gold in Glasgow. Filip Mihljevic from Croatia won the bronze medal with 21.31m in the third round overtaking Francisco Belo from Portugal, who set the national record with 21.28m in the second round.
Women's 3000 metres: Markovc continues the British tradition
Twenty-five British runner Amy Eloise Markovc continued the proud tradition of British middle distance running winning the gold medal in the women's 3000m in 8:46.46 in the opening track final of this edition of the European Indoor Championships. Surprising Alice Finot won the silver in 8:46.54 edging Verity Ockenden from Great Britain (8:46.60). The top three finishers set their PB. Markovc followed in the footsteps of Laura Muir, who won the last editions in Belgrade 2017 and Glasgow 2019. It's the third time in a row that Great Britain won the gold and bronze on the European Indoor 3000m podium.
Amy Eloise Markovc: "I am really thrilled with this win. Going into my first senior championship, I was nervous, but our team captain gave us a great inspirational talk and that helped. It was close in the end, but I never relax until I reach the finish-line. It's a dream come true. That's why we do this. We want to win medals. My first plan for the summer is to get the Olympic 5000m standard, which I missed by just over a second in 2019".
Women's 400 metres semifinals: Femke Bol cruises through to the final
European seasonal leader Femke Bol from the Netherlands cruised through to the women's 400 metres in 51.71 running with the greatest ease. Former world youth 100m and 200m Jodie Williams from Great Britain qualified for the final setting her indoor PB with 52.09.
European outdoor 400m and 4x400 champion Justyna Swiety Ersetic won the second semifinal breaking the Polish Indoor record with 51.34. Lieke Klaver from the Netherlands booked the second qualifying spot with 52.09 holding off Anna Ryzhykova from the Ukraine by 0.02.
Men's 400 metres semifinal: Van Diepen clocks the fastest time
Dutchman Tony Van Diepen won the first semifinal setting his indoor PB and the fastest time with 46.06. Oscar Husillos from Spain moved into the final by placing second with 46.26 ahead of Italy's Vladimir Aceti, who set his PB with 46.55. Three-time European Indoor champion Pavel Maslak did not get through to the final after finishing fourth with 46.70.
Dutch indoor champion Liemarvin Bonevacia took the win in the second semifinal with 46.75 ahead of 2017 European Under 23 champion Luka Janezic (47.25). The Netherlands also dominated the third semifinal with Jochem Dobber, who claimed the first place in 46.56 ahead of Carl Bengstrom from Sweden (46.67) and Ricky Petrucciani from Switzerland, who improved his PB with 46.72.
Sagnia, Iapichino and Mihambo get through the qualifying round in the long jump
Sweden's Khaddi Sagnia led the qualifying round in the women's long jump with 6.78m. Reigning European Under 20 champion Larissa Iapichino needed a final third-round jump of 6.70m to secure her spot in the final after leaping to 6.42m and 6.35m in the opening two rounds. World outdoor champion Malaika Mihambo only made it through with 6.58m in the third attempt taking off 30 cm off behind the board.
Larissa Iapichino: "The track here is great and really fast, but because of that I was having problems on my two jumps. I had to adjust the run-up and only got it right on my final attempt. Coming here as number 1 in Europe this year feels really weird. It's strange coming into my first major championships and competing against all these jumpers I have watched in the past. My mother and I don't even talk much about athletics. She just wants me to have my own experience in the sport, but she also tells me I need to have fun with it".
Men's triple jump qualifying round: Pichardo leaps over 17 metres
Portugal's Pedro Pablo Pichardo secured his spot in the men's triple jump final with a first-round effort of 17.03m, jumping well over the automatic qualifying round of 16.80m. Two-time European Indoor medallist Max Hess also needed one attempt of 16.86m to get through to the qualifying round. Alexis Copello from Azerbaijan also qualified with the third qualifying mark of 16.84m.
Pedro Pablo Pichardo: "The Arena is really good. I like it here. My aim is to win".
Men's 800 metres heats:
European outdoor silver medal Andreas Kramer from Sweden ran the fastest time by winning the fifth heat in 1:47.55.
Women's 800 metres heats: Hodgkinson easily gets through to the semifinal
European under 20 record holder Keely Hodgkinson won her women's 800 metres heat in 2:05.63. Hodgkinson set the then world under 20 record with 1:59.03, which was improved later this season by US Athing Mu with 1:58.40. Hodgkinson is coached by Trevor Painter, the husband of 2011 European Indoor champion Jennifer Meadows.
Keely Hodgkinson: "I controlled the race. The track is fast. The pace was all right, so I felt very comfortable. I really want the medal, so I cannot wait to get to the final".
Joanna Jowzik won the first heat in 2:05.19 ahead of Italy's Irene Baldessari (2.05.44).
Joanna Jowzik: "It's been four years since I last ran in a major championship meet, but the emotion and the adrenaline of it is something you don't forget".
Women's 1500 metres heats:
German Hanna Klein ran the fastest time in the women's 1500m heats with 4:09.35. Holly Archer from Great Britain won the first heat with her PB of 4:09.77 ahead of two-time European 3000m steeplechase champion Gesa Felicitas Krause from Germany (4:09.92) and Elise Vanderelst from Belgium (4:10.49).
See the results, live stream, start lists, and schedule.
-->