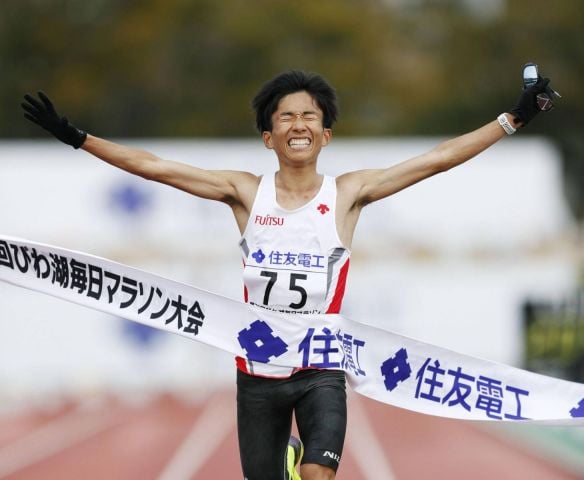 Kengo Suzuki surprised everyone with a new Japanese record by winning the final edition of Lake Biwa Mainichi Marathon within 2:04:56 seconds on Sunday, February 28.
The 25-year-old Suzuki took the lead after the 36-kilometer marker and powered to the finish line breaking the previous record of 2:05:29 set by Suguru Osako from last year in the Tokyo Marathon by exactly 30 seconds.
"I hadn't thought I'd get a time like this. I'm as surprised as anyone," Suzuki said. "Winning the race was the thing I was going for."
"I felt I was unable to establish a rhythm over the first 10 km, but after 20, 25 km I found it. Up until now, my pace has slackened after the midpoint, so I was hoping I could overcome that as I ran."
"I was thinking of how I could time (my breakaway)," he said. "When I failed to grab my water bottle, I thought my only chance would be as the other runners drank, so I went for it."
Suzuki became the first Japanese man to break 2 hours and 5 minutes sin the marathon. Last year he finished in 12th place at the Lake Biwa Mainichi Marathon.
Hidekazu Hijikata took second place with a new personal best of 2:06:26 while was third with 2:06:35 Kyohei Hosoya.
-->