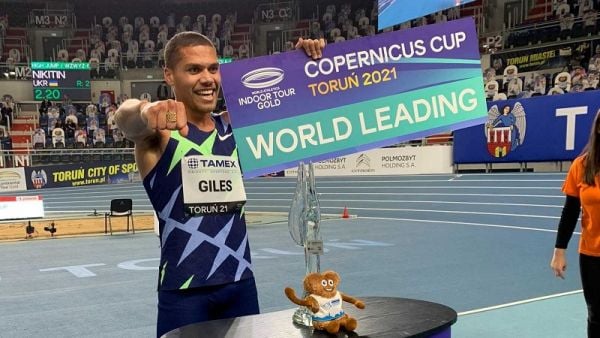 British 26-year-old middle-distance runner Elliot Giles broke the British indoor record with an impressive 1:43.63 becoming the second fastest 800m indoor runner in history. The national indoor record had been held by Sebastian Coe since 1983.
Giles improved Donovan Brazier's world seasonal best set in New York with 1:44.21 last weekend and Collins Kipruto's meeting record set last year. Giles improved his PB for the third time this winter after winning in Karlsruhe in 1:45.50 and in Liévin in 1:45.49.
Jamie Webb completed the British double finishing second also breaking Coe's national record with 1:44.54 ahead of Sweden's Andreas Kramer (PB 1:45.09) and world indoor champion Adam Kszczot (1:45.22 seasonal best).
Elliot Giles: "I felt in great shape and I thought I could win the race, but I am overwhelmed right now with the time I ran. I didn't really set out to run a fast time. I was executing my tactics, follow the pace and then make a move after 400m. Strong domestic competition is something that really motivates us and makes us all better",
Men's 60 metres hurdles: Holloway improves the meeting record
World 110m hurdles champion Grant Holloway won his fourth 60m hurdles race in 7:38 after three false stars improving the meeting record held by Orlando Ortega since 2017 with 7.48. Former European outdoor bronze medallist Wilhelm Belocian repeated his second place from Liévin in 7.57 beating US Aaron Mallett (7.60).
Grant Holloway: "It's hard to run fast in a race like this after three false stars. I stayed cool and still ran a good race with 7.38, but it could have been much faster without the false starts. I am going to Madrid now and that will be my last competition of the indoor season".
Women's 60 metres: Oliver equals world seasonal best time
Javianne Oliver equalled the 60 metres world seasonal best set by Dina Asher Smith in Karlsruhe clocking 7.08 in the final. Swiss indoor and outdoor champion Ajla Del Ponte finished runner-up in 7.15 missing her PB by 0.01. Reigning European Indoor champion Ewa Swoboda took third place in a seasonal best with 7.16.
Javianne Oliver: "I am very happy with this race, as it was my seasonal best. I didn't feel great physically, but it was all about the mental approach. I had to ignore all the aches. It was my last race of the indoor season, but I will not have much of a break from racing. The US outdoor season is starting pretty soon."
Women's 60 metres hurdles: Clemons improves world seasonal best
World indoor silver medallist Christina Clemons improved Kendra Harrison's world seasonal best with 7.81, improving Pamela Duktiewicz's meeting record by 0.04. Poland's Kristina Koleczek dipped under the 8 seconds barrier setting her PB with 7.98 to finish ahead of her compatriot Pia Skrzyszowska and Italy's Luminosa Bogliolo, who both improved their career best time with 8.00.
Men's high jump: Nedasekau wins on countback at 2.34 over Protsenko and Tamberi
European silver medallist Maksim Nedasekau took the win in the men's high jump with a world leading mark of 2.34m beating Andiy Protsenko from the Ukraine and 2019 European Indoor champion Gianmarco Tamberi on countback. Nedasekau had a clean sheet at 2.20m, 2.25m and 2.28m before his first error at 2.31m. The Belarusian jumper passed his remaining two attempts at 2.31 and cleared 2.34m in his first attempt. Protsenko cleared 2.31m in his first attempt and 2.34m at the third time of asking. Tamberi need three jumps at 2.25m before clearing 2.28m in the first attempt, 2.31m in the second and 2.34m in the third. Nedaseku and Tamberi made three failures at 2.36m, while Protsenko ended the competition after an error at this height.
Maksim Nedasekau: "I felt very well during the warm-up. I expected to jump 2.30m, but it ended even better. I passed my remaining attempts at 2.31m because I enjoy these situations when I have the back against the wall. I expect my rivals at the European Championships to be the same as tonight. I hope to win the European title, but the second place will be all right as well".
Men's pole vault: Kendricks takes a close win over Lisek and Obiena on countback
The men's pole vault was also decided on countback with three vaulters clearing 5.80m. Double world champion Sam Kendricks took the win by clearing 5.80m in his first attempt. Polish outdoor record holder Piotr Lisek had a clean sheet until 5.72m before clearing 5.80m at the third time of asking. Obiena needed three attempts to clear the opening height of 5.40m, before vaulting 5.60m in the first attempt, 5.72m in the second and 5.80m in the third. All three vaulters made three failures at 5.87m.
Sam Kendricks: "I have many friends in Poland and I enjoy competing here. It feels like coming home to me. It's hard to keep your rhythm going in a competition, with interruptions from other events, but I am happy that Piotr and Ernest cleared 5.80m on their final attempt"
Men's 1500 metres: Barega breaks the 3:33 barrier
World 5000m silver medallist Selemon Barega broke the 3:33 barrier indoors for the first time in his career clocking 3:32.97. The 21-year-old Ethiopian runner smashed the meeting record held by his compatriot Samuel Tefera with 3:35.57 since 2017. European indoor champion Marcin Lewandowski set the national indoor record with 3:35.71 beating Neil Gourley by 0.08. Michal Rozmys from Poland and Filip Sasinek from Czech Republic also improved their best times running respectively in 3:36.10 and 3:36.53.
Selemon Barega: "I am normally a long distance runner, but it's important to work on my speed. I am very happy with my time tonight. Last year I ran 3:32 outdoors, so I hope to run even faster in the summer. I am planning to run the 5000 and the 10000m at the Olympic Games."
Women's 3000 metres: Hailu sets the world seasonal best time
World under 20 indoor 1500m record holder Lemlem Hailu from Ethiopia broke away from world 3000m steeplechase champion and record holder Beatrice Chepkoech in the final 200m to set a world seasonal best time and meeting record with 8:31.24. Chepkoech finished second improving her PB with 8:31.72 ahead of Fantu Worku (8:40.04).
Women's 800 metres: Alemu improves the meeting record
Ethiopia's Habitam Alemu broke the 1:59 barrier setting a career best and national record with 1:58.19. Poland's Joanna Jozwik, who held the previous meeting record with 1:59.29, took second place with 2:00.42 ahead of Ireland's Nadia Power (2:00.98).
Women's 400 metres: Bol breaks her third national record
Dutch 400m rising star Femke Bol improved her national indoor record for the third time this winter with a meeting record of 50.66 in the second heat beating European outdoor champion Justyna Swiety Ersetic from Poland (51.80) and Lieke Klaver from the Netherlands (51.92). European 400m hurdles Lea Sprunger won the first heat with 52.38.
Women's triple jump: Papahristou takes the win in the fifth attempt
European outdoor champion Paraskevi Papahristou leapt to a winning jump of 14.60m in the fifth round overtaking Viyaleta Skvartsova, who took the lead with her PB of 14.39m in the second attempt.
Men's shot put: Haratyk and Stanek put over 21 metres
Reigning European Indoor and outdoor champion Michal Haratyk from Poland won his third men's shot put of the 2021 season with 21.47m in the fifth round beating Tomas Stanek from Czech Republic, who put 21.20m in his third attempt, and double world champion David Storl (20.59). Haratyk set the European seasonal best with 21.83m last week in Lodz.
Michal Haratyk: "Only one of my attempts today was good. The other ones were not great technically. In previous seasons I would have a breakthrough at the national championships, so I am hoping for an improvement. I would like to achieve 22 metres. The European Championships will be a stepping stone on the road to the Olympic Games, but I will be there to defend my title. My rivals should be the same guys as today, Tomas Stanek, Konrad Bukowieczki and Leonardo Fabbri."
See the full meet results here.
-->