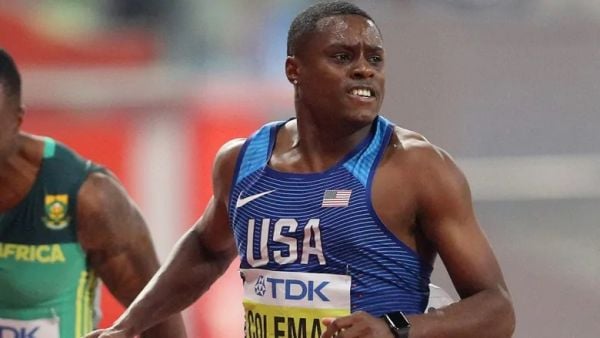 The Athletics Integrity Unit (AIU) banned the World 100m champion, Christian Coleman of the United States, for whereabouts failures.
The 24-year-old Coleman who won 100m and 4x100m gold medals at the 2019 World Championships in Doha is suspended for two years from athletics from 14 May 2020.
"The Disciplinary Tribunal has upheld the AIU's charge and banned sprinter Christian Coleman of the USA for 2 years for 3 Whereabouts Failures in a 12-month period, a violation of the World Athletics Anti-Doping Rules." the AIU said.
The World record holder indoors over 60m has 30 days to appeal the decision to the Court of Arbitration for Sport, but as of now, his ban runs through May 2022, meaning he will miss next year's Tokyo Olympics.
According to the World Athletics out-of-competition testing rules, athletes are responsible for missed drug tests if they are not at their specified location for the one-hour period they have stated. The tester must wait for the full 60 minutes before leaving.
Under the World Athletics Anti-Doping Rules, 3 whereabouts failures (Filing Failure and/or Missed Test) within a period of 12 months constitute an anti-doping rule violation, for which the applicable sanction is 2 years' ineligibility.
Last year Coleman narrowly escaped a ban but it withdrew the case after it was proved there had been a filing irregularity regarding the date of the first missed test.
Despite the fact that the sprinter was aware that he still had two whereabouts failures on his record, on 9 December 2019, Coleman went shopping during his one-hour period.
Coleman told investigators he was home watching the kick-off of an American football game at 8.15pm - claiming that a doping control officer must have left early. But his explanation was rejected because the AIU said receipts proved that Coleman purchased items at a shopping mall at 7:53pm and 8:22pm and that it was "simply impossible" for him to have returned home in between, while the officers took a photo of his residence at 8:21pm to show there was nobody in his house.
-->