Peres Jepchirchir Wins Women's Half Marathon World Title in Gdynia

Posted by:
Watch Athletics
Saturday, 17 October 2020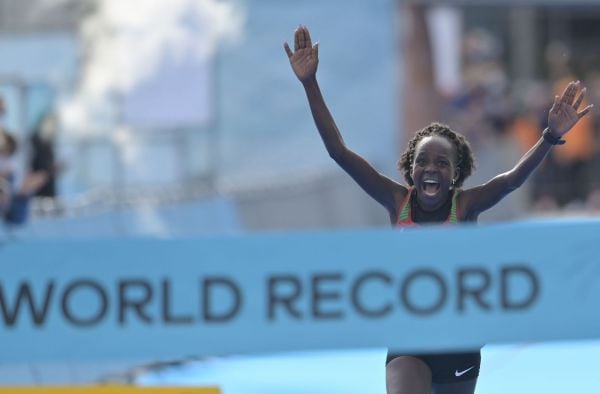 Kenya's Peres Jepchirchir won the 2020 women's World Athletics Half Marathon Championships gold in a new World record time in Gdynia, Poland on Saturday (17). Jepchirchir set the world record in a women-only race with 1:05:16.
Jepchirchir already broke the world record over this distance earlier this season with 1:05:34 on 5 September in Prague.
The 28-year-old held off Germany's Melat Yisak Kejeta by two seconds and Ethiopa's Yalemzerf Yehualaw by three seconds in a close sprint finish. Kejeta, a German runner of Ethiopian origin, smashed the European record with 1:05:18.
Joyciline Jepkosgei led a group of 13 athletes through the first 5 km in 15'20". During the second lap the leading group was whittled down to eight. Defending champion Netsanet Gudeta from Ethiopia fell and lost the ground on the leading group.
Can led a group of seven runners through 10 km in 30'47", but Jepchirchir made her first move producing the first surge.
Seven women (two Kenyans Jepkosgei and Jepchirchir, Turkey's Yasemin Can, Kejeta, Ethiopian runners Yeshaneh, Yimer and Yehualaw) went through the 15 km in 46:24. With 54 minutes on the clock, Yeshaneh (world record holder in a mixed race with 1:04:31) and Jepkosgei fell on the ground and were left 30 metres behind. A leading trio formed by Jepchirchir, Yehualaw and Kejeta ran side by side towards the finish with less than one kilometre to go. Jepchirchir pulled away in the final straight to take the win in 1:05:16 ahead of Kejeta, who smashed her PB by more than three minutes with 1:05:18. Yehualaw completed the podium with 1:05:19 leading Ethiopia to their second consecutive gold medal in the team event with the quickest cumulative time of 3:16:19 ahead of Kenya (3:18:10) and Germany (3:28:42).
The Ethiopian team's triumph was completed by Zeineba Yimer (fourth in 1:05:39) and Yehualaw Yeshaneh (fifth in 1:05:41).
The top six women dipped under the 1:06 barrier and the top nine finished inside the 1:09 barrier for the first time in history.
Peres Jepchirchir: "It's unbelievable. My goal was to win this race. I did not expect that I would break the world record, but I realized that it could happen when we passed the 20 km mark. It was a little bit windy, but the course was good for me".
In the men's race 19-year-old Jacob Kiplimo won the World half marathon title in a new championships record.
Top Women's results | See full results here
1
Peres JEPCHIRCHIR

KEN

1:05:16
WRwo
2
Melat Yisak KEJETA

GER

1:05:18
NR
3
Yalemzerf YEHUALAW

ETH

1:05:19
PB
4
Zeineba YIMER

ETH

1:05:39
PB
5
Ababel YESHANEH

ETH

1:05:41
6
Joyciline JEPKOSGEI

KEN

1:05:58
SB
7
Yasemin CAN

TUR

1:06:20
NR
8
Netsanet GUDETA

ETH

1:06:46
SB
9
Brillian Jepkorir KIPKOECH

KEN

1:06:56
PB
10
Lonah Chemtai SALPETER

ISR

1:08:31
SB
-->