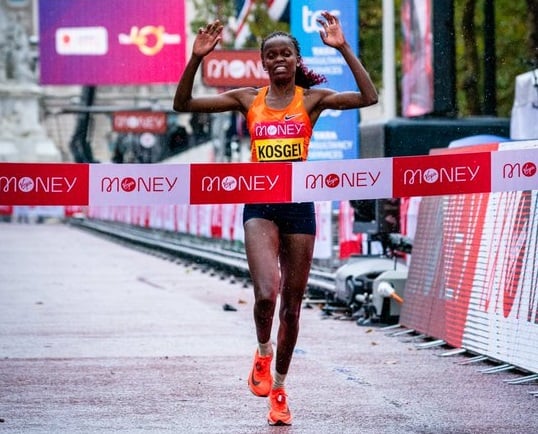 Defending champion and World record holder Brigid Kosgei of Kenya won the 2020 London Marathon race in 2:18:58, American Sara Hall took a surprise second with a time of 2:22:01 on Sunday morning.
Kosgei, who was defending her London title, looked in control throughout the race, which took place on a looped course in St James's Park. She saw off competition from her compatriot and world champion Ruth Chepngetich and the USA's Sara Hall, to finish more than three minutes ahead of second-placed Hall.
Despite rainy conditions in the capital, 26-year-old Kosgei looked likely to challenge Mary Keitany's women-only record of 2:17:01, set in London in 2017, around the halfway point, as she broke away from the rest of the field. The tough conditions took their toll though and as she ran under the world-famous Finish Line on The Mall she was almost two minutes outside Keitany's record.
Kosgei said afterwards: "I just tried my best. The weather affected us today – there was some wind and rain all the way, which made our muscles colder. No one could warm up so it was difficult to even finish."
She clearly felt better than the rest of the field when she made a break at the 30K point: "I didn't have anything planned, but I felt good. I felt my body wanted to move, but my legs could not move, so I tried my best."
British hopefuls Steph Twell and Lily Partridge both dropped out of the race.
The elite women's race was the first elite race of the day at the 2020 Virgin Money London Marathon.
At the same time, 45,000 participants from 109 countries across the world were taking part in the virtual Virgin Money London Marathon – The 40th Race. By 10:00 more than 2,500 had finished the event.
Shura Kitata won the London Marathon men's race in a thrilling sprint finish.
See the complete results here.
Live stream and TV coverage for the men's race here.
Top results women
1. KOSGEI, Brigid (KEN) 2:18:58
2. HALL, Sara (USA) 2:22:01
3. CHEPNGETICH, Ruth (KEN) 2:22:05
4. BEKERE, Ashete (ETH) 2:22:51
5. MEGERTU, Alemu (ETH) 2:24:23
6. SEIDEL, Molly (USA) 2:25:13
7. STEYN, Gerda (RSA) 2:26:51
8. DIVER, Sinead (AUS) 2:27:07
9. MYKHAYLOVA, Darya (UKR) 2:27:29
10. JEMELI, Valary (KEN) 2:28:18
-->