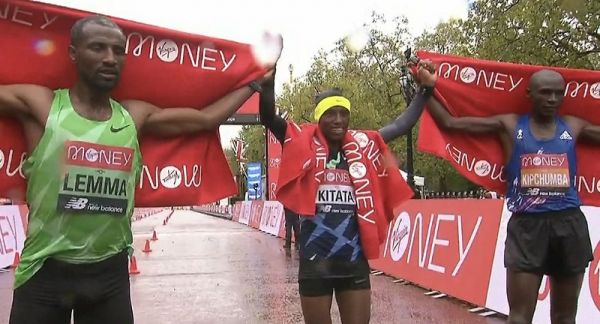 Ethiopia's Shura Kitata won a thrilling sprint finish to win the biggest race of his career in 2:05:41 edging Kenyan Vincent Kipchumba at the 40th edition of the Virgin Money London Marathon on a wet and cold day in London.
Eliud Kipchoge was unable to respond to the attack launched by the Kenyan Vincent Kipchumba and the Ethiopian quartet formed by Sisay Lemma, Shura Kitata, Mosinet Geremew and Mule Wasihun with 5 km to go.
The race came down to a thrilling sprint finish battle between Kipchumba and Kitata. Kipchumba was the first to launch the attack, but he was overtaken by Kitata, who claimed his first London title in 2:05:41 edging Kipchumba by one second. Lemma finished third in 2:05:45 ahead of last year's second placer Mosinet Geremew (2:06:04), Mule Wasihun (2:06:08), Tamirat Tola (2:06:41) and Benson Kipruto (2:06:42).
"I prepared very well for this race. Kenenisa Bekele helped me. I am very happy to win this race", said Kitata.
Kipchoge finished eighth in 2:06:49. The Kenyan legend was unbeaten in ten marathon races since Berlin 2013, when he finished eighth to Wilson Kipsang. Kipchoge was bidding to win a record-breaking fifth London Marathon title.
"I am very disappointed. I don't know what happened. The last 15 km I felt my right ear was blocked and I had cramp in my hip and leg. It just happened in the race. I started well. It's really cold, but I can't blame the conditions", said Kipchoge.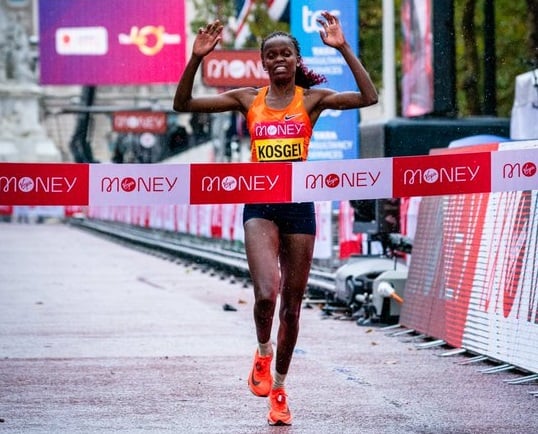 Brigid Kosgei wins the women's race for the second consecutive year
World record holder Brigid Kosgei won the women's race Virgin Money London Marathon for the second consecutive year.
Kosgei and Doha 2019 world marathon champion Chepngetich broke away just before the 10-mile mark.
They went through the halfway mark in 1:18:15 (inside the pace to improve the women's only record of 2:17:01 held by Mary Keitany in London in 2017), the 25 km in 1:21:17 and the 30 km in 1:38:18.
Kosgei broke away from Chepngetich after the 30 km mark and increased her lead on Chepngetich to 46 seconds at 35 km.
Kosgei ran alone on the Mall near Buckingham Palace to cross the finish-line in 2:18:58 claiming the $ 30000 prize. Kenya has won the London women's race for the fifth consecutive year. Kosgei ran 38 seconds slower than last year.
Brigid Kosgei: "I just tried my best. The weather was not good, so I struggled up to the moment I finished. It affected us today. There was wind and rain all the way, which made our muscles colder. No one could warm up, so it was difficult to even finish. We have not prepared well due to the pandemic. I will be prepared for good results next year. ".
US 37-year-old runner Sarah Hall (the wife of US runner Ryan Hall) went through the 21 km mark in ninth place, but she ran a brilliant second half and overtook Chepngetich in a thrilling sprint for second place in the final metres on the London Mall. Hall finished runner-up improving her career best by 15 seconds in 2:22:01 edging Chepngetich by four seconds.
Hall achieved the best result by a US runner in London since Deena Kastor's win in 2006. Hall bounced back from the disappointment at last year's US Olympic Trials, where she did not finish the race and failed to qualify for the Olympic Games in Tokyo.
"It was very surreal and I felt amazing out there", said Hall.
The London Marathon race was held for the first time over 19 laps of a closed-loop course around St. James's Park in central London. The competitions were held without spectators to maintain a biosecure "bubble" for athletes.
Top results men
1. KITATA, Shura (ETH) 2:05:41
2. KIPCHUMBA, Vincent (KEN) 2:05:42
3. LEMMA, Sisay (ETH) 2:05:45
4. GEREMEW, Mosinet (ETH) 2:06:04
5. WASIHUN, Mule (ETH) 2:06:08
6. TOLA, Tamirat (ETH) 2:06:41
7. KIPRUTO, Benson (KEN) 2:06:42
8. KIPCHOGE, Eliud (KEN) 2:06:49
9. NORDSTAD MOEN, Sondre (NOR) 2:09:01
10. KIPSEREM, Marius (KEN) 2:09:25
See full London Marathon results here.
-->