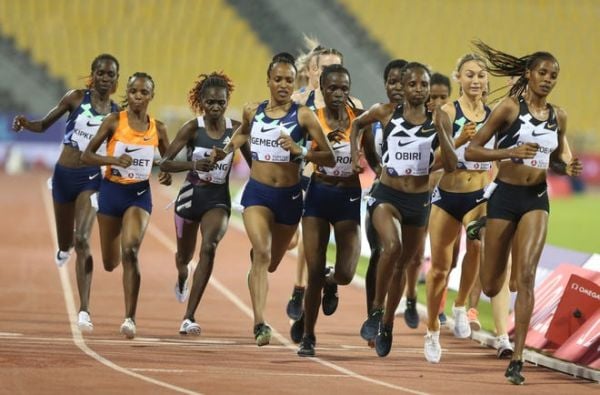 Two world seasonal best times were set by Hellen Obiri in the women's 3000m (8:22.94) and Faith Kipyegon in the women's 800m (1:57.68) in a great night for middle-distance races in the final leg of the Wanda Diamond League at Qatar's Sports Club in Doha.
Women's 3000 metres:
Double 5000m world champion Hellen Obiri won a high-quality 3000 metres setting a world seasonal best with 8:22.54. The next five runners improved their PBs: world 10000m bronze medallist Agnes Tirop finished second with 8:22.92 sharing the same time as world 3000m steeplechase record holder Beatrice Chepkoech (8:22.92), world 5000m silver medallist Margaret Chelimo Kipkemboi (8:24.76), Hyvin Kyeng (8:25.13) and Gudaf Tsegay (8:25.23). Great Britain's Laura Weightman was the best European runner in seventh place with 8:26.31.
Hellen Obiri: "Doha has become more like a second home to me as I have won so many races including the World Championships last year. I love coming back to Doha. I have had the opportunity of training in Doha for about a month in preparation for this month and I believe it has helped me to get in shape and acclimatize well. The season has not been the best for everyone but I am happy it is coming to an end. We are focusing on next year.
Women's 800 metres:
Reigning 1500m Olympic champion Faith Kipyegon improved the world seasonal best with 1:57.68 winning her fourth race of the season after two 1000m competitions in Montecarlo and Brussels and the 1500m in Ostrava. Spain's Esther Guerrero was delighted with her PB in second place with 1:59.22 ahead of Great Britain's Adelle Tracey (1:59.87) and Ethiopia's Habitam Alemu (2:00.11).
Faith Kipyegon: "I am happy to win here in Doha considering that it is my second 800m race after three years break from it. I wasn't really expecting to win and that's why I am surprised not only with the win, but also with my record tonight. It's a great feeling and I am happy to be here in Doha. I am going back to celebrate with my husband and my daughter and after that I will start my preparation for the Olympics".
Women's 100 metres:
Double 100m and 200m Olympic champion Elaine Thompson Herah won her second consecutive Diamond League 100m race of the season one week after Rome clocking her second fastest time of the year with 10.87. Ivory Coast's Marie José Ta Lou finished second with 11.21 ahead US Kayla White (11.25) and world 100m under 20 bronze medallist Kristal Awuah, who set her seasonal best with 11.27.
Elaine Thomson Herah: "It's been wonderful here in Doha and I want to thank the organizers for putting together such a great event. I am happy to win but my major focus is to finish the year healthy. Preparations for the Olympics is next on my agenda and it begins in earnest.".
Men's pole vault: Duplantis batte Kendricks e Lavillenie per un numero minore di errori
World record holder Armand "Mondo" Duplantis won his 16th indoor or outdoor competition of the year ending his season unbeaten with 5.82m beating Sam Kendricks and Renaud Lavillenie on countback. All three vaulters equalled the meeting record held by Kostantinos Filippidis since 2013. Duplantis cleared 5.46m, 5.71m and 5.82m in his first attempt before making two attempts at 5.92m and one final try at 6.00m. Kendricks needed two attempts at 5.71m before clearing 5.82m at the third time of asking. Lavillenie cleared both 5.71m and 5.82m in the third attempt.
Armand Duplantis: "It's been a fantastic season and I enjoyed the moment tonight with the guys. We have not able to see each other this season as we often do due to obvious reasons. I enjoyed the jump and the rivalry with Sam. It's been fun with him as we have always got back at each other. It's been a rollercoaster year. I broke the world indoor record earlier in the year and I was enjoying the season but all of a sudden the pandemic came and everything was shut down and no one knew what will happen next. It's great to be back and I hope things keep improving. Tonight's win is for my sister who is celebrating her 18th birthday. Though I am not there with her, I believe I have given her a wonderful gift. I have always enjoyed coming to Doha because I believe heat is better than cold and I enjoyed competing here. I look forward to coming back".
Men's 1500 metres:
Australia's Stewart McSweyn broke away from the rest of the field to win the men's 1500 metres setting the Australian record with 3:30.51 in a good race where the top five finishers set their PBs. The Australian middle distance runner crowned a successful season in which he won the 1500m in Zagreb and set the Oceanian record in the 3000m in Rome. Ethiopia's Selemon Barega finished second smashing his PB with 3:32.97 ahead of Soufiane El Bakkali (3:33.45), Lemecha Girma (3:33.77) and James West 3:34.07).
Stewart McSweyn: "I was not in the best shape coming into this race, but to win tonight is something I am delighted about. I just wanted to race again considering how the season has been. It was a very competitive race but I executed my plan quite well and I maintained the pace. My target is next year's Olympics and I will have to be in the best shape for it".
Men's 800 metres:
Last year's World Championships bronze medallist Ferguson Rotich continued his good period of form winning his fourth race of the season in 1:44.16 ahead of Great Britain's Elliot Giles, who improved his career best with 1:44.56 to finish ahead of reigning Commonwealth champion Wycliffe Kinyamal (1:45.68) and Australia's Peter Bol (1:45.74).
Women's long jump:
Sweden's Khaddi Sagnia took the lead with 6.85m and remained in the front until the fifth round. The competition was decided in the final-three jump-off. According to the innovative rule only the top three jumpers earned a sixth and decisive jump. Ukraine's Maryna Beck Romanchuk won the women's long jump with 6.91m in the jump-off beating world bronze medallist Eze Brume from Nigeria (6.71m) securing second spot ahead of Sagnia, who jumped 6.55m.
Men's 110m hurdles:
US Aaron Mallett won the first Diamond League 110m hurdles race of his career in his PB of 13.15 beating Swiss record holder Jason Joseph (13.40) and Great Britain's David King (13.54)
Men's 200 metres:
Ivory Coast's Artur Cissé broke the national record with 20.23 to win the men's 200 metres ahead of Jamaica's Julian Forte (20.39) and olympic bronze medal Christophe Lemaitre (20.68).
Women's 100m hurdles: US Payton Chadwick won the women's 100m hurdles in her seasonal best of 12.78 edging Taliyah Brooks (12.85) and Great Britain's Cindy Ofili (13.02).
Men's 400 metres:
Last year's NCAA champion Khamari Montgomery took the win in the men's 400 metres in 45.55 ahead of Kuwait's Yousef Karam (45.72) and Qatar's Mohamed Nasir Abbas (45.96).
See the complete results of the Doha Diamond league here.