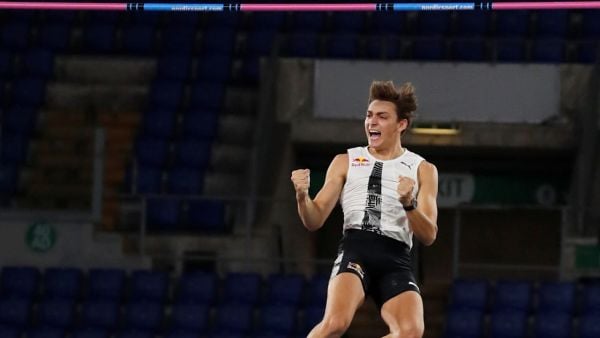 Armand "Mondo" Duplantis broke Sergey Bubka's world outdoor record with 6.15m in his second attempt in a magical evening at the Olympic Stadium in the fifth leg of the Wanda Diamond League in Rome. Duplantis set his third world record in 2020 after clearing 6.17m in Torun with 6.17m e 6.18m in Glasgow indoors last February.
Mondo had a clean sheet at 5.45m, 5.70m, 5.80m in his first attempt before clearing 5.85m in his second attempt. He then broke Sergey Bubka's meeting record by clearing 6.00m in the first attempt before clearing 6.15 at the second time of asking. Bubka also set the world record in Italy at Sestriere with 6.14 in 1993.
Rome is once again a magic venue for pole vault, as five world records have been set in the Olympic Stadium. Thierry Vigneron was the first vaulter to break a world record with 5.83m in the Eternal City in 1983. Vigneron and Bubka set two world records in the same evening with 5.91m and 5.94m in 1984. Yelena Isinbayeva vaulted 5.03m in 2008.
Duplantis won all his 15 competitions this year and cleared six meters in all five Wanda Diamond League competitions in Monaco (6.00m), Stockholm (6.01m), Lausanne (6.07m) and Brussels (6.00m). Before Rome Duplantis had made 13 attempts in the previous competitions to break Bunka's record.
Armand Duplantis: "World record, well, I would not say that I am used to it. I am still in the clouds. It's just one of the feelings where you are dreaming a little bit. It's surreal. It's a crazy feeling when everything lines up like that and you do a really good performance. I just wanted to be on top of the leaderboard. The 6.15m was important to me. I am happy to get over it. It was really strong competition for me, so long. In the last two jumps, I found my rhythm again. Maybe I will party a bit, just hang out with the guys, but trying to stay a little focused because I have one last meeting in Doha in one week. I will stay in Rome until I fly to Doha. After the last meeting in Doha, I can really party and chill. How I achieved this result? It has been a long time coming. The world record is really unexpected and I am really grateful. It is so cool. I want to get over 6.15m so badly. Everybody kept talking about it. It was a big chip on the shoulder and I feel I had to do it to have stop people asking me the question. When I did it, it was more relief than joy. My mum and dad were not here today. Usually one of them is with me. I am a bit disappointed about that. My dad has never been with me when I jumped a WR". Renaud Lavillenie was the replacement coach for me today and it worked out.
Belgium's Ben Broeders set the national outdoor record with 5.80m to finish second ahead of Philippines' John Obiena on countback. Former world record holder Renaud Lavillenie finsished fourth with 5.70m.
Men's 400 meters hurdles:
Double world champion and European record Karsten Warholm improved Abderrahmane Samba's Golden Gala record with 47.07 running on his favorite seventh lane. The Norwegian "Viking" ran the third-fastest time of his career.
Warholm also set the Italian all-comers record improving the previous best time held by Edwin Moses, who clocked 47.13 in Milan in 1980. Moses had set the previous best ever time set in the Olympic Stadium at the 1981 World Cup in Rome.
Karsten Warholm: "Of course, I am satisfied. This is the third-best time ever. I ran really low 47ers on a regular basis this year. I am very happy. This season has been a good experience for me. It is good fun for me to come here to Rome with the warm weather and the winds, unlike back home in Norway, where it is cold and rainy. The World record? I am quite used to talk about it and I love it because it shows that I am in the right pace, that I am close".
Men's 3000 meters:
The top four runners set national records in an outstanding competition. Uganda's Jacob Kiplimo improved the Diamond League record and national record with 7:26.54 beating European 1500m champion and record holder Jakob Ingebrigtsen, who set a national record and PB with 7:27.05. Kiplimo set the fastest time in the world since 2007. Stewart McSweyn also dipped under the 7:30 barrier with the Oceania record of 7:28.02. Kiplimo scored his second consecutive win in Europe this summer after setting the world seasonal best in the 5000m with 12:46.63 in Ostrava. Yeman Crippa finished fourth breaking Gennaro Di Napoli's long-standing Italian record with 7:38.27one week after improving Salvatore Antibo's 5000m national record in Ostrava with 13:02.26.
Women's 100 meters:
Double Olympic champion Elaine Thomson Herah scored her third win in the women's 100 meters in the Golden Gala Pietro Mennea setting the fastest time in the world this year with 10.85. Thompson ran her first European race this season after setting a seasonal best of 10.88 in Kingston last July. Aleia Hobbs finished second with 11.12 ahead of Ivor Coast's Marie Josée Ta Lou (11.14) and Monte-Carlo and Stockolm DL winner Ajla Del Ponte (11.19).
Elaine Thompson Herah: "I leave here with the world-leading time. I am super excited. This tells me where I am at the end of this season, and tells me how I can prepare for next year. This year required me adjusting, and the goal was to push back and motivate myself. I am the double Olympic champion and I want to be in top form next season".
Men's 100 meters:
South Africa's Akani Simbine won the 100m setting his second-fastest time of the season with 9.96 to beat Ivory Coast's Arthur Cissé (10.04) and Italian sprint stars Filippo Tortu (10.09) and Marcell Lamont Jacobs (10.11).
Women's high jump:
Yuliya Levchenko had a clean sheet until 1.98m to win the Ukrainian battle against her younger compatriot Yaroslava Mahuchik, who had to settle with second place with 1.95m on her first attempt. Australia's Nicola McDermott finished third with 1.95m on countback.
Men's high jump:
Andy Protsenko from Ukraine set his seasonal best with 2.30m in the first attempt to beat European Indoor champion Gianmarco Tamberi, who cleared 2.27m at third time of asking. The Italian jumper made one try at 2.30m and two at 2.32m.
Men's 110 meters hurdles:
Great Britain's Andrew Pozzi crowned a successful season with a win in the men's 110 meters hurdles on the Olympic Stadium track in 13.15, missing his PB by just 0.01. US Aaron Mallett finished second with 13.23 ahead of his compatriot Freddie Crittenden (13.31).
Women's 100m hurdles:
Nadine Visser scored the third win for the Netherlands in the same evening with 12.72 beating Italy's Luminosa Bogliolo for the third time this summer. Bogliolo clocked her tenth time under 13 seconds with 12.83 beating US Payton Chadwick (12.89) and Great Britain's Cindy Ofili (13.02).
Women's 800 meters:
Scottish middle-distance runner Jemma Reekie won the women's 800m in 1:59.76 beating world seasonal leader Hedda Hynne from Norway (2:00.24) and Laura Muir (2:00.49).
Women's 400 meters:
Dutch sprinter Lieke Klaver improved her PB with 50.98 beating Lithuania's Agne Serksniene (51.80) and European 400m and 4x400 relay champion Justyna Swiety Ersetic (51.94).
Women's 400m hurdles:
In a great night for Dutch athletics world seasonal leader Femke Bol continued her unbeaten streak this season clocking a sub-54 time for the second time this season with 53.90.
Men's 400 metres:
Italian 20-year-old rising star Edoardo Scotti surprisingly won the men's 400 metres in 45.21 smashing Claudio Licciardello's Italian under 23 record with a PB of 45.21. The European under 20 champion edged Kuwait's Yousef Karam, who set his seasonal best with 45.25, and Poland's Karol Zalewski (45.48)
Men's shot put:
US Nick Ponzio won the men's shot put with 21.09m ahead of former NCAA champion Payton Otterdahl (20.86m) and Italian Indoor record holder Leonardo Fabbri (20.69m).
Watch video highlights of the Rome Diamond League here.
-->