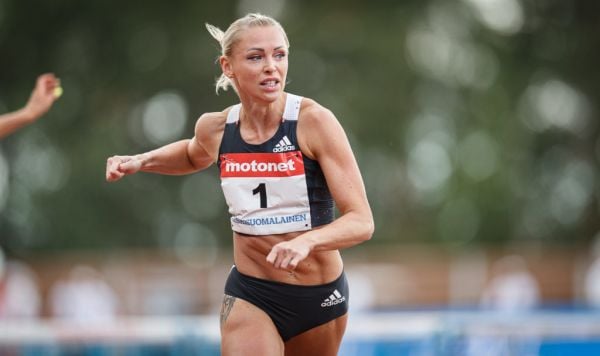 Annimari Korte with the 2nd fastest 100m hurdles time in the World highlighted the Motonet Grand Prix in Jyväskylä, Finland while Armand Duplantis struggled in windy Karlstad on Wednesday (9).
The Finnish record holder in the 100m hurdles, Korte, clocked 12.76 seconds to set the 2nd fastest time this year in the world. She missed her personal best and national record by only 0.04 seconds. The two other Finnish hurdlers who went under the 13-second barrier were Reetta Hurske who finished 2nd clocking 12.91 and Nooralotta Neziri who crossed the line took in 12,95.
Samuli Samuelsson (FIN) clocked a new personal best of 10.28 seconds to win the men's 100m final. Topi Raitanen (FIN) won the men's 1500m 3.40,35 ahead of compatriot Joonas Rinne 3.42,51.
Aaron Kangas (FIN) prevailed in the hammer throw with 75,24m.
Motonet Grand Prix in Jyväskylä full meet results.
Daniel Stahl highlighted windy and cold Floksam Grand Prix in Karlstad, Sweden with his 68.10m throw to win the discus as Simon Petterson was 2nd with a very solid 66.90m effort.
Sweden's biggest athletics star, Armand Duplantis, in the final attempt cleared 5.72m to win the pole vault. Duplantis who was struggling with the wind took three attempts to clear the opening height of 5.52m
Andreas Kramer (SWE) won the men's 800m in a season's best 1:46.95. Suldan Hassan clocked 3:40.12 for the win in the men's 1500m race.
In the long jump, Thobias Montler leaped 8.03m to win the men's competition while Khaddi Sagnia, the World leader took the women's contest with 6.76m. Kim Amb won the men's javelin contest with 81.48m toss.
Karlstad GP full meet results.
-->