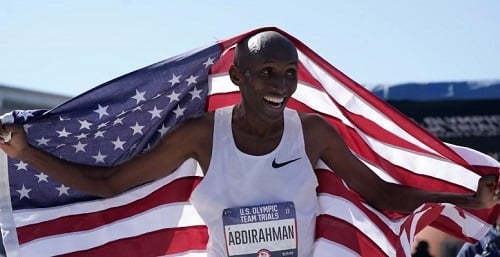 Abdi Abdirahman made the USA marathon team for the 2020 Tokyo Olympic games on Saturday, Feb. 29 in Atlanta Georgia.
Galen Rupp was a clear winner in 2:09:20, meanwhile the 43-year-old abdirahman in a dramatic 3-way battle for the last two spots on the US Olympic team with Jacob Riley and Leonard Korir took the 3rd place. Riley finsihed 2nd clocking 2:10:02 while Abdirahman finished in 2:10:03. Leonard Korir finished in a dissapointing 4th place in 2:10:06.
Abdirahman made his 5th Olympic team and at age of 43 became the oldest US Olympic runner in history.
See full US Olympic marathon trial results here.