Birhanu Legese and Ruti Aga to defend their titles at the Tokyo Marathon

Posted by:
Watch Athletics
Saturday, 29 February 2020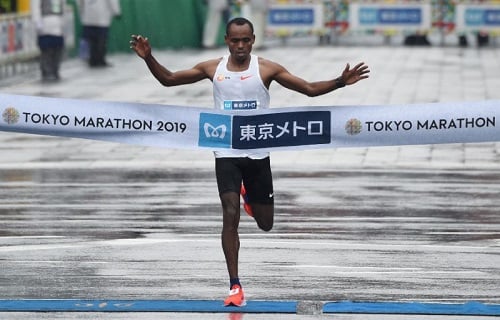 Ethiopian top runners Birhanu Legese and Ruti Aga will defend the titles they won last year at the Tokyo Marathon, a World Athletics Platinum Label Road Race and World Marathon Major, scheduled on Sunday 1st March 2020.
This year's line-up of the Tokyo Marathon features eight runners with a PB under the 2:05 barrier. The goal is to break the course record in both men's and women's races held respectively by Wilson Kipsang (2:03:58) and Sarah Chepchirchir (2:19:47). Legese won the Tokyo Marathon title last year in 2:04:48 and finished runner-up to his compatriot Kenenisa Bekele in Berlin setting his PB with 2:02:48 last September. The 25-year-old Ethiopian runner will face his compatriots Getaneh Molla, who won the Dubai Marathon in 2019 in 2:03:34 on his marathon debut, and Sisay Lemma, who finished third in Berlin last year in his PB of 2:03:36.
The other runners with a sub-2:05 PB are Ethiopians Asefa Mengistu (PB 2:04:06) and Hayle Lemi (PB 2:04:33), two-time Tokyo Marathon champion Dickson Chumba from Kenya (PB 2:04:32), El Hassan El Abbassi from Barhein (PB 2:04:33) and Kenya's Titus Ekiru (PB 2:04:46). Chumba is targeting his third win in Tokyo after his triumphs in 2014 and 2018. The other top runners in the field are 2019 world bronze medallist Amos Kipruto (PB 2:05:43 set in Amsterdam in 2017) and 2016 world half marathon silver medallist Bedan Karoki (PB 2:05:53 set inC hicago 2019).
The Tokyo Marathon is the final chance to be selected for the Japanese team at next summer's Olympic Games. Suguru Osako (national record holder with 2:05:50) will face former Asian record holder Yuta Shitara (PB 2:06:11) and Hiroto Inoue (2:06:54). A Japanese runner can secure a spot in the Japanese Olympic team only if he breaks the national record of 2:05:50.
Ruti Aga from Ethiopia is the fastest runner in the women's field with her PB of 2:18:34 set in Berlin in 2018. Aga went on to win the Tokyo Marathon last year in 2:20:40. Aga will take on her compatriots Birhane Dibaba and Tirfi Tsegaye. Dibaba won two editions of the Tokyo race in 2015 and 2018 and reached the podium in four of her five past appearances of the Japanese race. She finished third in Valencia last December improving her PB to 2:18:46 and is aiming at a 2:18:30 time on Sunday.
Tsegaye finished first in Tokyo in 2014 and won the 2016 Dubai Marathon setting her PB with 2:19:41.
The other sub-2:20 runners are Kenya's Valary Ayabei (winner in Frankfurt in 2:19:10 last October), Israel's Lonah Chemtai Salpeter (winner in Prague in 2:19:46 and European champion in the 10000m in Berlin 2018) and Ethiopia's Tigist Girma (2h19'52" in Amsterdam nel 2019). Another runner to watch is Ethiopia's Senbere Teferi, who clocked 1:05:32 in the half marathon in Valencia in 2019 and 2:24:11 in Dubai in 2018.

Organisers restricted entry only to elite athletes due to concerns over the outbreak of the Coronavirus.
See Tokyo Marathon live stream and live results info here.
-->