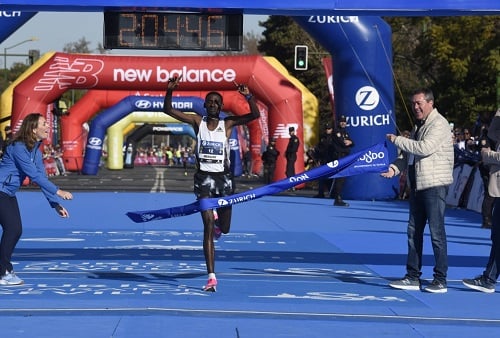 Ethiopia's Mekuant Ayenew Gebre and Ugandan Juliet Chekwel broke Sevilla marathon course records on Sunday.
The 29-year-old Gebre broke the tape in 2:04:46 beating the course record by almost 2 minutes. He also shaved 4 minutes and 14 seconds off from his previous personal best set in Prague in 2017.
Barnabas Kiptum clocked 2:05:05 to take second place while Regasa Bejiga took third place with 2:06:24. 
For the first time in history in a marathon, 14 men finished inside 2 hours and 8 minute barrier.
Uganda's Juliet Chekwel on her marathon debut clocked an impressive Ugandan national record of 2:23:13. She also bettered the previous Seville marathon course record by 1 minute and 16 seconds. 
Gada Bontu claimed the second place with 2:23:39 as Sifan Melaku took third in 2:23:49.
Top 5 women finished inside 2 hours and 5 minutes.
See full Seville marathon results here.