• Duplantis Clears 6.07m Before narrowly Missing 6.19m in Lievin

Posted by:
Watch Athletics
Thursday, 20 February 2020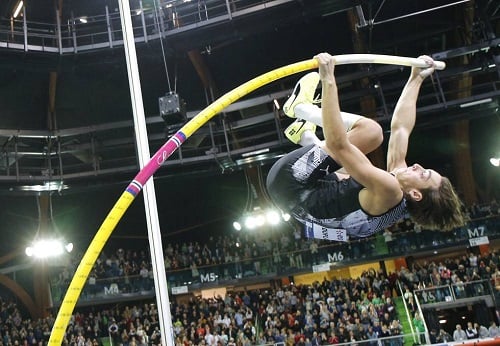 Armand "Mondo" Duplantis won the men's pole vault with 6.07m with the greatest ease at the Meeting Hauts de-France Pas de Calais in Lievin before coming close to breaking his world record at 6.19m in his second attempt.
The 20-year-old Swede cleared the 6 metres barrier in all his four competitions this winter after winning in Dusseldorf with 6.00m and setting two world records in Torun with 6.17m and Glasgow with 6.18m. Sam Kendricks cleared 5.90m at his third attempt. Ben Broeders set the Belgian record with 5.80m.
"I like it when people are watching. I like it when the eyes are on me, when the eyes are on our pole vault competitions, because we do some really special things out there on the track, especially as pole vaulters. I really felt the crowd's energy. This event is really special. I don't think sport will ever have such a situation again", said Duplantis.
World and olympic silver medallist Sandi Morris won the women's pole vault with 4.83m before failing three attempts at 5.03m. Robeilys Peinado from Venezuela finished second setting her PB with 4.78m.
World Indoor bronze medallist Ronnie Baker cruised through to an impressive win in the 60m final in 6.44 setting the meeting record and the second fastest time in the world this season behind Christian Coleman's 6.37 in Albuquerque last weekend. Baker had clocked 6.49 in the heat. US Demek Kemp finished second with 6.50 ahead of European Indoor champion Jan Volko from Slovakia (6.57) and US Mike Rodgers (6.59). Italian 100m champion Marcell Jacobs improved his PB by 0.04 with 6.63.
Reigning European outdoor champion Pascal Martinot Lagarde from France won the men's 60m hurdles setting the second fastest time in the world this year with 7.47. Kuwait's Yaqoub Mohammed Al Yohua took second place equalling his personal best with 7.54 ahead of world bronze medallist Orlando Ortega from Spain (7.56).
World outdoor champion Nia Ali won her second women's 60m hurdles race in this year's World Indoor Tour edging her compatriot Christina Clemons with the same time of 7.92.
World outdoor bronze medallist Fabrice Zango from Burkina Faso leapt to an impressive 17.51m to win the men's triple jump, 13 cm off the meeting record held by his coach Teddy Tamgho. The African indoor record holder produced a solid series that included three more jumps over the 17 metres barrier (17.03m, 17.25m and 17.34m). Nazim Babayev from Azerbaijan jumped over the 17 metres barrier with 17.15m.
Ukraine's Maryna Bekh Romanchuk won the women's long jump with 6.90m (her fourth best jump of the season) securing her first place in the overall standings. Nastassia Mironchyk Ivanova finished a distant second with 6.59m.

Middle distance races produced two world seasonal best times set in the men's 1500m and in the men's 3000m. Over the shorter distance world indoor record holder Samuel Tefera from Ethiopia prevailed with 3:35.54 ahead of Spain's Jesus Garcia (3:36.68) and Poland's Marcin Lewandowski (3:38.10).
Last year's Diamond League winner Getnet Wale won the 3000m in 7:32.80 ahead of his compatriot Selemon Barega (7:33.19), Barhein's Birhanu Balew (7.34.58) and Ethiopia's Lemecha Girma (7.34.94). Wale set the fastest time indoors since 2013.
Gambia's Gina Bass took a narrow win in the women's 60 metres in her personal best of 7.11 (the fourth fastest time in the world this season) edging 2018 world indoor champion Murielle Ahouré by 0.01. Fresh Swiss indoor champion Ajla Del Ponte confirmed her good period of form finishing third in 7.26 edging 2017 European Indoor champion Asha Phillip by 0.01.
Fresh British 800m indoor record holder Jemma Reekie dominated the women's 800m in 2:00.34 beating reigning world outdoor champion Halimah Nakaayi (2:01.96) and Ethiopia's Habitam Alemu (2:02.04). Reekie scored her second consecutive win in this year's World Indoor Tour after her victory in the 1500m in Glasgow.
Kenya's Collins Kipruto clinched the win in the men's 800 metres in 1:46.34 holding off his compatriot Cornelius Tuwei (1:6.74) and South Africa's Tshepo Tshite (1:47.75). Slovenia's Marusa Mismas set the world record in the rarely contested indoor 2000m steeplechase race with 5:47.79 beating Kenyan runners Mercy Chepkurui (6:00.31) and Roseline Chepngetich (6:01.27). Mismas won the European Under 20 silvermedal in the 3000m steeplechase in Rieti 2013 and reached the World Championships final in Doha 2019.
In the final race of the meeting Pierre Ambroise Bosse won the 1000m race in 2:19.26 holding off Andrew Osagie from Great Britain by 0.05.
See full meet results here.