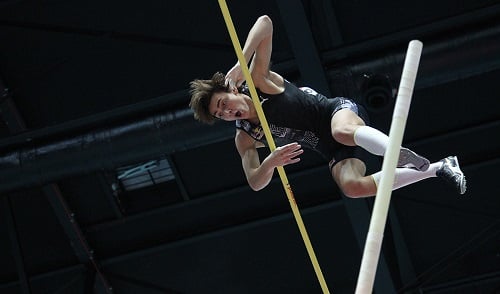 Swedish 20-year-old pole vault star Armand "Mondo" Duplantis will be back in action at the Muller Grand Prix at the Emirates Arena in Glasgow just six days after breaking the world record with 6.17m in Torun.
The reigning European outdoor champion and world outdoor silver medallist leads the 2020 standings of the World Indoor Tour in his discipline with 23 points after his wins in Dusseldorf with 6.00m and in Torun with 6.17m; wins in his next competitions in Glasgow and Lievin would secure him the $ 20000 bonus.
Duplantis will renew the rivalry against his friend Sand Kendricks, who set the US indoor record with 6.01m in Rouen last week. Kendricks leads 14-5 in his head-to-head clashes against Duplantis and beat the young Swede at last October's World Championships in Doha with 5.97m on countback. Duplantis beat Kendricks in their only clash in 2020 in Dusseldorf (6.00m to 5.80m). Duplantis and Kendricks aim at breaking the UK all-comers record of 5.90m currently held by former world record holder Renaud Lavillenie at the 2018 World Indoor Championships in Birmingham and Pawel Wojciechowski at the 2019 European Indoor Championships in Glasgow. Former world under 18 champion Harry Coppell will try to break the British record of 5.83m after clearing 5.80m in Rouen last week.
World under 20 record holder Yaroslava Mahuchik would secure the overall win in the women's high jump with a win in Glasgow. The 18-year-old Ukrainian jumper set two world indoor under 20 records this winter with 2.01m in Lviv and 2.02m in Karlsruhe and won the prestigious high jump in Banska Bystrika with 1.96m last Tuesday.
Another Ukrainian jumper Maryna Bekh Romanchuk will be looking to secure her first place in the women's long jump standing after her impressive wins in Karlsruhe with 6.92m and in Torun with a world indoor leading mark of 6.96m. British fans will cheer on world heptathlon gold medallist Katarina Johnson Thompson and 2016 world indoor bronze medallist Lorraine Ugen from Great Britain. European Under 20 champion Larissa Iapichino from Italy will compete for the third time this winter after her 6.22 in Karlsruhe and her National Under 20 record of 6.40m set in Ancona last week.
Twice 100m olympic champion Shelly Ann Fraser Pryce from Jamaica will face reigning 60m world indoor gold medallist Murielle Ahouré from Ivory Coast in an eagerly-awaited 60m sprint race. Fraser Pryce will run her first indoor 60m race since her world indoor gold medal in Sopot 2014, when she won in 6.98 ahead of Ahouré. The African sprinter beat her Jamaican rival twice in two consecutive editions of the Muller Indoor Grand Prix in 2013 and 2014. Fraser Pryce warmed up for the Glasgow race with a rare 60m outdoor race in Jamaica in 7.32 last week. Another sprinter to watch is 17-year-old British sprinter Amy Hunt, who broke the world under 18 record in the 200m with 22.42 in Mannheim and won the European under 20 gold medal in the 200m in Boras last year.
Reigning 1500m European champion Laura Muir wiil make an attempt at breaking the 1000m world record currently held by Maria Mutola, who clocked 2:30.94. Muir set the European Indoor record clocking 2:31.93 in Birmingham in 2017. Muir recently set her 800m PB with 1:58.44 in Glasgow two weeks ago finishing second behind her training partner Jemma Reekie, who set the British indoor record with 1:57.91. Reekie, who won the European Under 23 titles in the 800m and 1500m last year, broke the British mile record at the Millrose Games with 4:17.88 last week. Reekie will run the 1500m against Canada's Gabriela Debues Stafford, who set the national indoor record in the mile with 4:19.73 in New York, Ethiopia's Axumawit Embaye (winner in Karlsruhe) and Dawit Seyaum, 2016 world indoor silver medallist.
Reigning 100m hurdles world champion Nia Ali will face 2018 world indoor silver medallist Christina Clemons and 2015 world bronze medallist Alina Talay in the women's 60m hurdles. Ali won the first leg of the World Indoor Tour in Boston in 7.94. Clemons won in Dusseldorf and finished second in Torun in 7.89. Talay prevailed over Clemons in Torun in 7.87, missing her national record by 0.02.
Reigning world indoor champion Andy Pozzi will be bidding to win his third 60m hurdles race this winter after finishing first in Paris Bercy with 7.52 and Torun with 7.53. Pozzi will take on Kuwait's Yakoub Mohamed Al Youha, who won in Dusseldorf clocking the third fastest time in the world this year with 7.54.
US Ronnie Baker will be bidding to win his second 60m race after winning in New York in 6.54 last week. The US sprinter, who won the 2017 edition of the British Grand Prix, will start as favourite against CJ Ujah from Great Britain, who won in Dusseldorf equalling his PB with 6.53, Italy's Marcel Jacobs, who set his PB with 10.03 in the 100m last year and European Indoor champion Jan Volko from Slovakia.
World indoor champion and three-time European gold medallist Adam Kszczot from Poland will try to repeat his win in the 2018 edition of the Glasgow British Grand Prix against world indoor finalist Eliot Giles and world finalist Josh Kerr from Great Britain.
Another Polish middle-distance star Marcin Lewandowski will battle in the men's 1500m against 3000m Karlsruhe and Boston World Indoor Tour winner Bethwell Birgen from Kenya.
Poland's Justyna Swiety Ersetic will be aiming to win her second consecutive World Indoor Tour race in the women's 400m one week after her first place in Torun in a national indoor mark of 51.37. The Pole will face Dutchwoman Lisanne De Witte, who leads the World Indoor Tour standings with 22 points.
Results, live streaming and other essential Muller Indoor GP Glagow see here.