• Jemma Reekie Sets British 800m Record with a Sensational 1:57.91

Posted by:
Watch Athletics
Saturday, 01 February 2020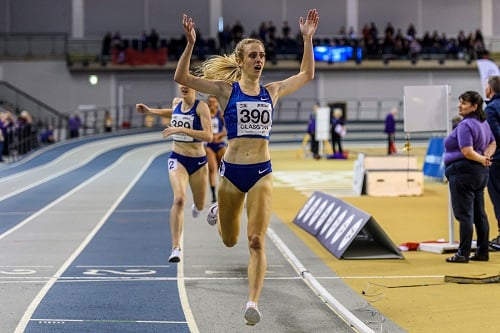 Jemma Reekie stunned the crowd at the Emirates Arena in Glasgow by clocking British and Scottish Records in an Invitational 800m race on Saturday.
In a thrilling 800m race, a double European U23 champion from last year, Reekie stormed by Laura Muir in the final 150m to clock a sensational 1:57.91.
Reekie destroyed Muir's (1:59.50) indoor Scottish National record and also eclipsed British record of 1:58.43 set by Jenny Meadows. It is also the fastest 800m indoor time run by a woman since 2006 and moves her to 11th on the world all-time list.
Laura Muir, the 5-time European champion over 1500m and 3000m, produced a life time best of 1:58.44 to finish second.
Jemma tweeted later: 'I don't even know what happened out there. I need to try and process this. Thanks for all the lovely messages.'
Reekie and Muir used Nike Protoype spikes?
As it appears in the picture below, Jemma Reekie and laura Muir used a Nike prototype spikes. These types of spikes are only available to selected elite athetes sponsored by Nike which you will not find them on market.
The World Athletics governing body prohibits the use of shoes in competition wich are not available to everyone.