Kenyan marathon runner Bedan Karoki, who took second place in 2018, won the Buenos Aires half marathon (IAAF Bronze Label Road Race) this year in a new course record time on Sunday, August 25.
The 29-year-old runner, Karoki crossed the line in 59:05 beating Mosinet Geremew course record by 2 seconds. The top 4 place took Kenyan runners and all ran under 1 hour.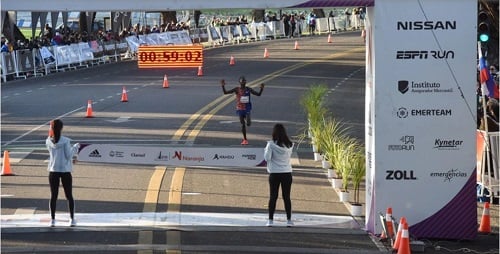 Karoki studies and trains in Japan. Last year he won Ras al-Khaimah half marathon with 58m42s, it was the 3rd best performance in 2018. Karoki has broken one hour barrier in the half marathon seven times.
There was also a new women's half course record in Buenos Aires. Ethiopia's Abadel Brihane crossed the line first in 1 hour, 7 minutes y 48 seconds.
-->