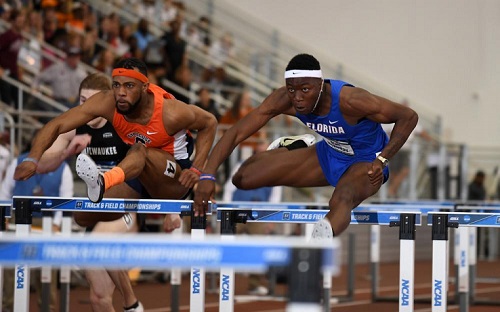 University of Florida athlete Grant Holloway clocked an impressive personal best and new NCAA championships record of 7.44 seconds in the 60m hurdles to qualify for the finals on Friday in Birmingham, Alabama.
Holloway's 7.44 seconds in the hurdles in prelims was just 0.02 seconds off his own NCAA record.
After clocking a new NCAA meet record and new World lead in the 60m hurdles, Holloway also produced the fastest time in the 60m dash prelims with 6.53 seconds and took to take third place in the long jump final with a 7.95m leap.
After the 60m hurdles and 60m finals on Saturday, Holloway will also run the 4x400m relay for the Florida Gators.
60m hurdles qualification results
| Place | Athlete | | Affiliation | Time | | Heat (pl) | |
| --- | --- | --- | --- | --- | --- | --- | --- |
| 1 | Grant HOLLOWAY | JR | Florida | 7.44 | Q | 1 (1) | FR MR |
| 2 | Trey CUNNINGHAM | SO | Florida State | 7.55 | Q | 2 (1) | |
| 3 | Daniel ROBERTS | JR | Kentucky | 7.65 | Q | 2 (2) | |
| 4 | Caleb PARKER | JR | Southern Miss | 7.71 | Q | 1 (2) | PB |
| 5 | Amere LATTIN | SR | Houston | 7.74 | q | 2 (3) | |
| 6 | John BURT | JR | Texas | 7.78 | q | 2 (4) | |
| 7 | Chris DOUGLAS | SR | Iowa | 7.79 (7.783) | q | 1 (3) | |
| 8 | Isaiah MOORE | SR | South Carolina | 7.79 (7.784) | q | 1 (4) | |
60m flat qualification results
| Place | Athlete | | Affiliation | Time | | Heat (pl) | |
| --- | --- | --- | --- | --- | --- | --- | --- |
| 1 | Grant HOLLOWAY | JR | Florida | 6.53 | Q | 2 (1) | |
| 2 | Hakim SANI BROWN | SO | Florida | 6.54 | Q | 2 (2) | PB |
| 3 | Kasaun JAMES | JR | Florida State | 6.55 | q | 2 (3) | PB |
| 4 | Mario BURKE | SR | Houston | 6.57 | Q | 1 (1) | |
| 5 | Divine ODUDURU | JR | Texas Tech | 6.60 (6.596) | Q | 1 (2) | |
| 6 | Bryand RINCHER | FR | Florida State | 6.60 (6.597) | q | 2 (4) | =SB |
| 7 | Cravon GILLESPIE | SR | Oregon | 6.61 (6.606) | q | 1 (3) | =PB |
| 8 | Ryan CLARK | SR | Florida | 6.61 (6.607) | q | 2 (5) | PB |
Long jump final top 8 results
| Place | Athlete | | Affiliation | Best Mark | Fl (Pl) | |
| --- | --- | --- | --- | --- | --- | --- |
| 1 | Rayvon GREY | JR | LSU | 7.97m (26-1¾ ) | 1 (6) | |
| 2 | Trumaine JEFFERSON | SR | Houston | 7.96m (26-1½ ) | 1 (3) | PB |
| 3 | Grant HOLLOWAY | JR | Florida | 7.95m (26-1 ) | 1 (1) | |
| 4 | Jacob FINCHAM-DUKES | SR | Oklahoma State | 7.94m (26-¾ ) | 1 (2) | |
| 5 | Charles BROWN | SR | Texas Tech | 7.91m (25-11½ ) | 1 (5) | |
| 6 | Fabian EDOKI | JR | MTSU | 7.86m (25-9½ ) | 1 (4) | |
| 7 | Jordan LATIMER | SR | Akron | 7.82m (25-8 ) | 1 (8) | |
| 8 | Ja'Mari WARD | SO | Missouri | 7.79m (25-6¾ ) | 1 (7) | |