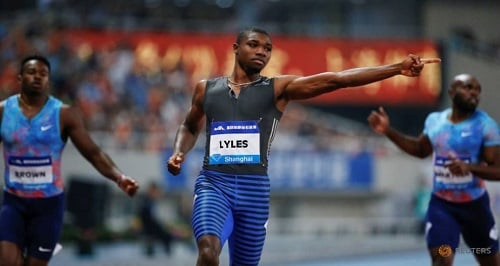 Noah Lyles vicotry in the men's 100m final highlighted day of the USA track and Field outdoor championships in Des Moines, Iowa on Friday, June 22.
The 20-year-old 2016 World junior champion, Lyles, equalled 2018 World lead in the semi finals with 9.89 seconds performance. Couple hours later Lyles returned to track and took the 100m final with a new PB new WL  and Drake stadium record of 9.88 seconds. Ronnie Baker and Kendal Williams took second and third place respectively.
Aleia Hobbs, the NCAA champion of LSU, won the women's 100m final in storming 10.91 seconds. Hashley Henderson of San Diego came in second in 10.96 seconds while Jenna Prandini cocluded the podium with 10.98 seconds.
Also on Friday Zack Ziemek won the men's decathlon with 9294 points. 
Donal Scott jumped 17.35m and was crowned the USA men's triple jump champion.