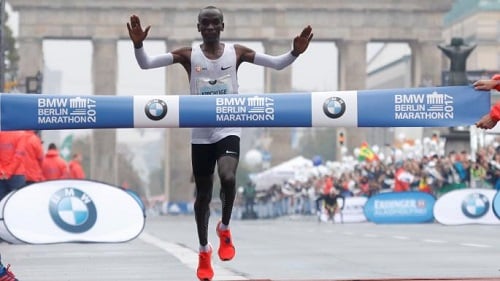 Eliud Kipchoge's aim at the BMW BERLIN-MARATHON on September 16 this year is clear cut: to break his personal best. Given that he is the Olympic champion and acknowledged to be the number one for the distance in recent years, this suggests the 33-year-old Kenyan is ready to produce something special. His best is currently 2:03:05, set in winning the 2016 Virgin Money London Marathon. This was eight seconds slower than the world record which remains in the possession of his compatriot Dennis Kimetto (2:02:57), when winning the 2014 race in Berlin. Kipchoge's mental as well as physical prowess has suggested for some time that the world record is within his reach.
A strong contender will also be the former world record holder in the marathon Wilson Kipsang. Now 36, the Kenyan set his world record time of 2:03:23 in 2013 in Berlin. Kipchoge and Kipsang lined up last year with the target of breaking 2:03 as a key objective but such hopes were dashed by steady rain throughout. Kipchoge won in difficult conditions in 2:03:32 while Kipsang dropped out. Another to be taken into consideration is Zersenay Tadese of Eritrea, five times a winner of the world half marathon title as well as world record holder for the distance.
Eliud Kipchoge has a strong claim to be the greatest marathon runner of all time. He is the reigning Olympic champion, having won the title in Rio in 2016, three times a winner in London (2015, 16 and 18), twice winner of the BMW BERLIN-MARATHON title as well as winner of the Bank of America Chicago Marathon in 2014. He finished runner-up in Berlin in 2013 when Wilson Kipsang broke the world record. He broke into new territory in May last year when running 2:00:25 for the marathon distance, achieved on the Formula One circuit of Monza in Italy though substitute pacemakers made the time ineligible as a record. In Berlin on September 16 Eliud Kipchoge is keen to show what he can do in regular competition and under hopefully favourable weather conditions: "My preparation is entirely concentrated on the BMW BERLIN-MARATHON on September 16. I am confident I can beat my personal best on this fast course if conditions are good."
Wilson Kipsang's best marathon time is not his world record from 2013 but ten seconds faster: 2:03:13 which he ran three years later in Berlin which left him runner-up behind Kenenisa Bekele of Ethiopia, whose time of 2:03:03 was only six seconds outside Kimetto's world record.
Zersenay Tadese of Eritea is the oldest of this trio at 36 and, though highly experienced over the distance events in general, has the least experience of the three in the marathon. No-one has gone close to his world record of 58:23 for the Half Marathon, set in Lisbon in 2010. His personal best for the marathon is 2:10:41, achieved in the London Marathon in 2012. However he did run 2:06:51 in the Monza race in May 2017, which was irregular. Additionally he ran three more marathons between 2010 and 2017. Last October Tadese was eighth in Chicago with 2:12:19.
The BMW BERLIN-MARATHON is one of the world's leading marathons, not least because its super-fast course has been the stage for ten world records – three by women, seven by men. Since 2003 all six world marathon records were run in Berlin including the current top time of 2:02:57 by Dennis Kimetto. In 2001 Japan's Naoko Takahashi became the first woman to break 2:20 when the Olympic Marathon Champion from the previous year ran 2:19:43.
Highly popular bib numbers for the BMW BERLIN-MARATHON are always sold out since 2006. Runners have to apply in October for a lottery system which determines who will receive a starting place. Additionally travel agents and sponsor receive a certain number of guaranteed entries. 43,852 runners were registered for the BMW BERLIN-MARATHON 2017.
The BMW BERLIN-MARATHON is part of the Abbott World Marathon Majors (AWMM), the group of six leading marathons in the world which was founded in 2006. They comprise Tokyo, London, Boston, Berlin, Chicago and New York.
The winners and leading finishers at the six AWMM races earn points according to their positions which culminate in an overall men's and women's winner at the end of a one-year-cycle.
The prize money for the winners amounts to $ 250,000 each. Since 2016 the series has also included wheelchair athletes. An age group category for mass runners has now been added with a points system to decide men's and women's winners. Series XII begins with the BMW BERLIN-MARATHON 2018 and will end with the Berlin race in 2019. Further information about the scoring system for elite and mass competitors can be found at: www.worldmarathonmajors.com
More information is available online at: www.berlin-marathon.com
-->