Live Stream, Results, Schedule, Entry Lists:  IAAF Combined Events Hypo Meeting Götzis 2017. Event scheduled for  27-28 May.
Quick Highlights |
Day 2 Thiam breaks 7000 point barrier
Olympic champion Nafissatou Thiam of Belgium won the 2017 Hypo Meeting Gotzis with an impressive 7013 points to move her in #3 in history. Thiam on day two had two personal bests in the javelin of 59.32m and in the 800m 2:15.24. Second place in the women's heptathlon took Carolin Schafer of Germany with a PB of 6836 while podium concluded Latvia's Laura Ikauniece-Adminina with a new National Record of 6815 points.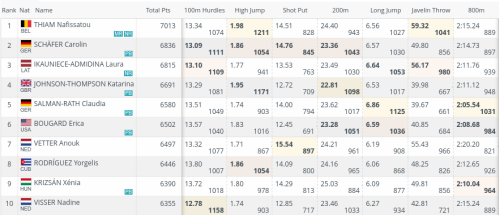 Women's Heptathlon after Day 1:
After blazing 22.81 seconds for the win in the 200m Great Britain's Johnson-Thompson took the lead in the heptathlon in Gotzis.
Only six points separate the top three after the first day of the heptathlon in Gotzis with Johnson-Thompson in lead with 4059, Thiam in second 4056 and Schafer in third. 
Nadine Vesser opened the meet with bang by clocking 12.78 seconds and shattering Jessica Ennis-Hill meet record in 100m hurdles.
Olympic champion Thiam Nafissatou took the lead in the meet with 2285 points after clearing world leading 1.98m in high jump beating Katarina Johnson-Thompson 1.95m (2017 World #2). Nafissatou is on a pace to a new personal best.
Top Results after 2 events:
Video: Women's High Jump Naffisatou vs Johnson-Thompson 
Men's Decathlon
Canada's Damian Warner successfully defended his Hypo Meeting title on Sunday with 8591 points followed by Eelco Sintnicolaas of Netherlands who set a new National record with 8539 points and Germany's Rico Freimuth (8365). 
 After day one, Damian Warner is in lead. The Canadian decathlete extended his lead in from 80 pints after 3 events to 153 points after the 400m dash. Meanwhile to second place moved Pierce Lepage of Canada with 4379 while Ukraine's Oleksiy Kasyanov remained in 3rd with 4352. 
Defending Hypo-Meeting Gotzis champion Damian Warner of Canada is a clear leader after 3 events with 2767 points. He won the 100m with 10.35 seconds and Long jump with 7.85m leap. 
Mathias Brugger of Germany won the men's shot put with 15.25m throw. 
Video Men's 100m Heat 5: Warner storms 10.35 seconds FTW