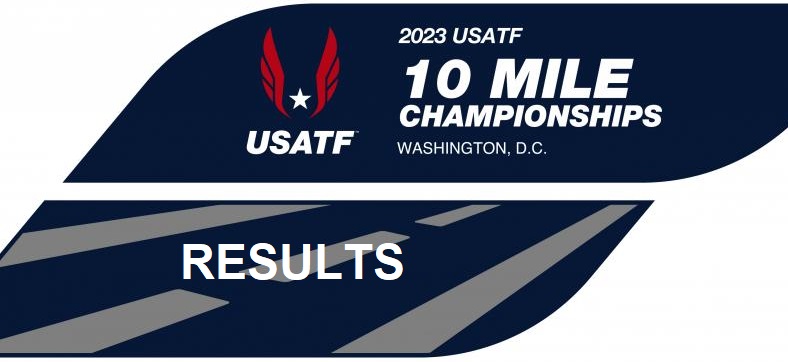 Results for the USA Track and Field (USATF) 10 Mile Road Championships 2023.
Event Date: Sunday, April 2
Location: Washington, DC, the United States
With cold temperatures and a strong wind at the start, Sarah Hall and Hillary Bor were the winners of the USATF 10 Mile Champions, hosted by the Cherry Blossom Ten Mile Run, on Sunday, April 2 in Washington, DC. Bor took a commanding lead 1 mile to go, never looked back, and defended his USATF 10 Mile title in a new American record of 46:11. Bor's time broke the American 10 Mile record of 46:13, set by Greg Meyer back in 1983.
Sara Hall pushed surged away from the lead pack in the final 200m to win her fourth USATF 10 Mile Championship title in 52:37.
TOP RESULTS WOMEN
1. Sara Hall - 52:37
2. Nell Rojas - 52:38
3. Emma Hurley - 52:41
4. Molly Grabil - 52:42
5. Amber Zimmerman - 53:05
6. Susanna Sullivan - 53:25
7. Carrie Verdon - 53:35
8. Jessa Hanson - 53:47
9. Jeralyn Poe - 54:41
10. Breanna Sieracki - 55:52
RESULTS MEN
1. Hillary Bor - 46:11
2. Abbabiya Simbassa - 47:09
3. Jacob Thompson - 47:27
4. Matthew McClintock - 47:30
5. John Dressel - 47:32
6. Emmanuel Bor - 48:14
7. Colin Bennie - 48:18
8. Joel Reichow - 48:53
9. Cody Baele - 48:56
10. Zach Herriott - 48:57
-->