• Kasyanov and Broersen win Decstar Challenge in Talence

Posted by:
Monday, 19 September 2016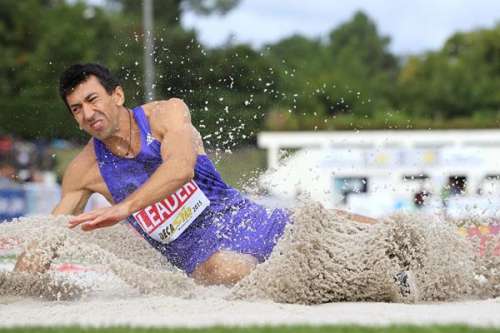 Ukraine's Oleksiy Kasyanov and netherland's Nadine Broersen won the 2016 IAAF Multi Event Challenge - Decastar in Talence, France.
The men's decathlon winner was decided in the last event, the 1500m. In a thriller finish Kasyanov clocked 4:28.42 to defeat Estonia's Maicel Uibo 4:29.37. The victory in 1500m gave Kasyanov overall win with 8077 just 6 points ahead of Estonia's Uibo.
The women's title in Talence went to Netherlands Nadine Broersen with 6377 points only 4 points ahead of Cuba's Yorgelis Rodriguez who scored 6373 points.
Results Men's Decathlon
| POS | ATHLETE | COUNTRY | POINTS |
| --- | --- | --- | --- |
| 1 | Oleksiy KASYANOV | UKR | 8077 |
| 2 | Maicel UIBO | EST | 8071 |
| 3 | Pierce LEPAGE | CAN | 8027 |
| 4 | Niels PITTOMVILS | BEL | 7936 |
| 5 | Bastien AUZEIL | FRA | 7909 |
| 6 | Willem COERTZEN | RSA | 7879 |
| 7 | Kurt FELIX | GRN | 7878 |
| 8 | Leonel SUÁREZ | CUB | 7837 |
| 9 | Adam SebastianHELCELET | CZE | 7800 |
| 10 | Romain MARTIN | FRA | 7628 |
| 11 | Ruben GADO | FRA | 7621 |
| 12 | Gaël QUÉRIN | FRA | 7566 |
| 13 | Axel MARTIN | FRA | 7511 |
| 14 | Lars RISE | NOR | 7372 |
| 15 | Pierre JOSEPH-PARFAITE | FRA | 5793 |
| | Kevin MAYER | FRA | DNF |
| | Marcus NILSSON | SWE | DNF |
| | Basile ROLNIN | FRA | DNF |
| POS | ATHLETE | COUNTRY | POINTS |
| --- | --- | --- | --- |
| 1 | Nadine BROERSEN | NED | 6377 |
| 2 | Yorgelis RODRÍGUEZ | CUB | 6373 |
| 3 | Claudia RATH | GER | 6310 |
| 4 | Györgyi ZSIVOCZKY-FARKAS | HUN | 6248 |
| 5 | Antoinette NANA DJIMOU IDA | FRA | 6180 |
| 6 | Xénia KRIZSÁN | HUN | 6095 |
| 7 | Evelis AGUILAR | COL | 6061 |
| 8 | Chantae MCMILLAN | USA | 5982 |
| 9 | Ida MARCUSSEN | NOR | 5877 |
| 10 | Sharon DAY-MONROE | USA | 5846 |
| 11 | Noor VIDTS | BEL | 5834 |
| 12 | Hanna KASYANOVA | UKR | 5804 |
| 13 | Katsiaryna NETSVIATAYEVA | BLR | 5686 |
| 14 | Anouk FORAFO | FRA | 5323 |
| 15 | Annaelle NYABEU DJAPA | FRA | 4932 |
| 16 | Sandra JACMAIRE | FRA | 4282 |