Trinidad and Tobago rising star 19-year-old Machel Cedenio ran under 45 seconds in 400m beating reigning world champion LaShawn Merritt of the United States on Saturday at Ponce Grand Prix in Puerto Rico.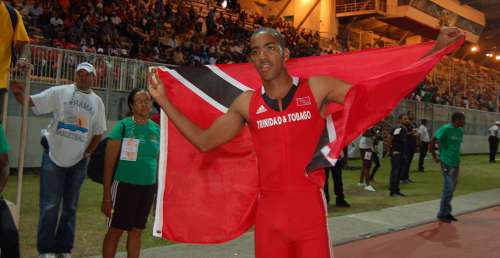 Last year's world junior champion Machel Cedenio posted his second fastest time of 44.97 in his career to beat world champion Merritt who clocked 45.42 for second and Dominican Republics Gustavo Cuesta who took third in 45.89.
Also in the race was Olympic silver medalist Luguelin Santos who finished in a disappointing 5th place with a time of 46.19.
Have to note that many results at Saturday's Ponce Grand Prix were affected by rainy and windy conditions.
Men's 400 Heat 3 Results

  1 Machel Cedenio               Trinidad & Tobago        44.97
  2 La Shawn Merrit              United States            45.42
  3 Gustavo Cuesta               Dominican Republic       45.89
  4 Nery Brenes                  Costa Rica               45.90
  5 Luguelin Santos              Dominican Republic       46.19
  6 Jeremy Wariner               United States            46.22
  7 James Harris                 United States            46.28
  8 Manteo Mitchell              United States            46.76  
A new world leading mark of 1:59.31 was set in the women's 800m by Rose Mary Almanza. Alamanza in the last 100m was able to hold of compatriot Sahily Diago, who took second with the second fastest time 1:59.91 this year in the world. The third place took Jamaica's Simoya Campbell with a time of 2:01.59.
American Charles Jock with a late charge in the men's 800m managed to edge on the line Colombia's Rafith Rodriguez. Jock posted 1:45.40, while Rodriguez clocked 1:45.53. Andy Gonzalez of Cuba took third place witha time of 1:46.28.World silver medalist, Nick Symmonds of the US, who is coming back after taking break for one year came in 5th place with a time of 1:46.37.
In the men's 110m hurdles USA's Jason Richardson 13.34 edged Cuba's Yordan O´ Farril 13.35 for the win.
Jessica Young of the US took the victory in the women's 100m witha time of 11.38, while men's 100m race was won by Trinidad and Tobago sprinter Keston Bledman who clocked 10.18 seconds.
-->