Istanbul Marathon Record Under Threat

Posted by:
Watch Athletics
Wednesday, 12 November 2014
The 2014 Istanbul marathon could see it's course record fall as the race organizers have attracted a strong field of 16 Ethiopians and five Kenyans to compete in the Streets of Turkey's capital this Sunday.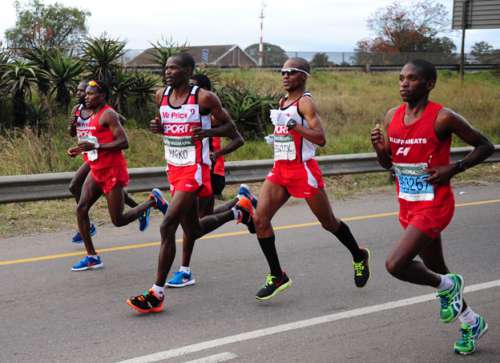 Several of elite runners who will run the Istanbul Marathon hold their person best marks below the current course record of 2:10:39 and with fine weather conditions and good pace making the course record will possibly be lowered under 2:10 mark.
The Ethiopian contingent will be led by Tarku Jufar, who holds a personal best of 2:08:10 in Hamburg in 2010. Jufar holds a season best time of 2:10:08 from Mumbai marathon.
Haile Haja (25) is also a very strong contestant for the win in Istanbul as he posted personal best mark of 2:09:20 in Daegu marathon.
One of the runners who is very well familiar with the course is the two time Istanbul marathon winner Kasime Adilo Roba (PB 2:10:20). Roba won the Istanbul marathon titles back in 2008 and 2009.
Dereje Yadete, who set his PB of 2:10:26 in Rome this year and the 27-year old Tsegay Gebresselassie ,PB 2:09:44 Eindhoven Marathon 2009, are also at a level that to battle for win the race and to brake the course record.
Kenyan team doesn't bring in as much as talent as Ethiopians, but the course record holder and defending champion Vincent Kiplagat will be the man to beat. Besides the course record, Kiplagat holds one of the fastest season best time (2:10:56) among the runners.
The 39-year old William Kiplagat will be one of the most experienced runners in the race as he holds an impressive PB 2:06:50 from 1999 in Amsterdam.
David Rutoh is another Kenyan who If in a good form can take home victory and a prize of $50,000. The 25 year old Rutoh set his PB of 2:08:21 at Paris Marathon in 2013.
MARATHON (42 KM) OVERALL
MEN
| | |
| --- | --- |
| 1 | $50.000 |
| 2 | $25.000 |
| 3 | $15.000 |
| 4 | $10.000 |
| 5 | $8.000 |
TIME BONUSES
MEN
| | |
| --- | --- |
| 2.09.00 | $5.000 |
| 2.08.00 | $10.000 |
| 2.07.00 | $15.000 |
| 2.06.00 | $30.000 |
| 2.05.00 | $65.000 |
| 2.02.56 | $150.000 |
-->