Planets top high jumpers will clash at the 36th International High Jump meeting in Eberstadt, Germany on Friday, August 22.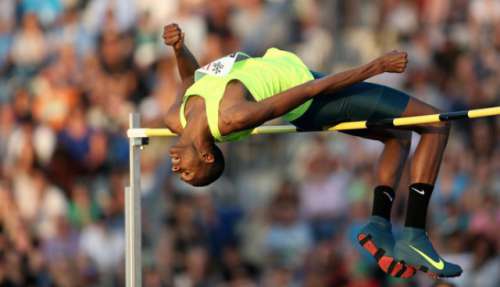 World's season leader, Essa Barshim Moataz (2.42m) of Qatar, will face European indoor record holder (2.42m) and London Olympic champion Ivan Ukhov of Russia.
Also in the line up are World bronze medalist and Canadian record holder Derek Drouin (2.40m), Russia's Aleksey Dmitrik, the 2011 world silver medalist, and Ukraine's rising start Andriy Protsenko (2.40m this year).
In the women's high jump competiton multiple World Championships and Olympic games medalist Ruth Beitia (PR 2.02m) of Spain will take on Sweeden's Emma Green-Tregaro (PR 2.01m).
Start List Men
Barshim Moataz Essa - 1991 ( Qatar ) PB - 2.42
Ukhov Ivan - 1986 ( Russia ) PB - 2.42
Drouin Derek - 1990 ( Canada ) PB - 2.40m
Dmitrik Aleksey - 1984 ( Russia ) PB 2.40m
Protsenko Andriy - 1988 ( Ukraine ) PB - 2.40m
Tsyplakov Daniil - 1992 ( Russia ) PB - 2.31
Tobe Naoto - 1992 ( Japan ) PB - 2.31
Günther Martin - 1986 ( Germany ) PB - 2.30
Barshin Muamer Aissa - 1994 ( Qatar ) PB - 2.28
Start List Women
Beitia Ruth - 1979 (Spain) Persona Best PB - 2,02
Green-Tregaro Emma - 1984 (Schweden) PB - 2,01
Kasprzycka Justyna - 1987 (Poland) PB - 1,99
Radzivil Svetlana - 1987 (Uzbekistan) PB - 1,98
Dusanova Nadiya - 1987 (Uzbekistan) PB - 1,98
Spencer Levern - 1984 (Saint Lucia) PB - 1,98
Simic Ana - 1990 (Croatia) PB - 1,98
Palsyté Airiné - 1992 (Lithuania) PB - 1,98
Jungfleisch Marie-Laurence - 1990 (Germany) PB - 1,97
Iljustsenko Anna - 1985 (Estoania) PB -1,96
Pooley Isobel - 1992 (Great Brittain) PB - 1,92
-->