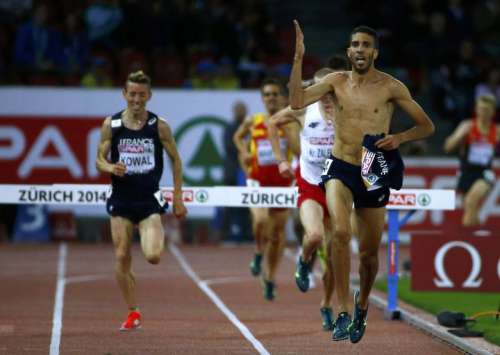 Mahiedine Mehkissi-Benabbad of France was removed his gold medal in the 3 000m steeplechase on Thursday after stripping off at the European athletics championships in the steeple chase final.
The Frenchman in the final straight ripped off his singlet, put it between his teeth and ran down the home straight to win the race victory in 8min 25.30sec.
Few minutes later, while Mehkissi-Benabbad was celebrating his 4th European gold received a yellow card meaning if he would repeat the gesture in the 1500m race his results would be annulled. It appeared that Mehkissi-Benabbad had violated the IAAF rule 143.8 which states "bibs may not be obscured in any way."
Minutes later the Spanish team filed a successful formal protest on behalf of Spain's Ãngel Mullera, who came fourth and the Frenchmen was stripped of his gold.
"I would like to get justice for the winner's behaviour," said Mullera.
Yoann Kowal, Mehkissi-Benabbad's French teammate, was upgraded from silver to gold, with Krystian Zalewski of Poland promoted to second and Spain's Angel Mullera to third.
Mekhissi-Benabbad said: "When I took off my vest it was because of my joy of course. It was the pleasure of winning. I was so happy to defend my title. I did not know I was going to get a yellow card for that."
-->