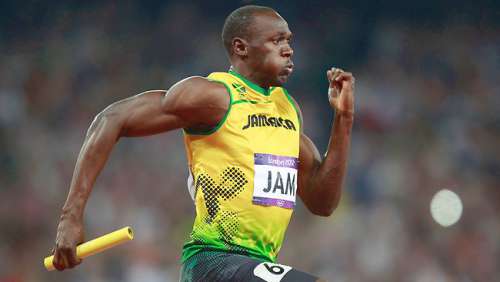 The Friday's late evening was the night that many sports fans from many parts of the world were waiting, the return of the world's greatest athlete, Usain Bolt.

The fully packed Hampden Park Stadium did get what they came to see as Usain Bolt in style anchored Jamaicans to the Commonwealth games 4x100m Final.
Jamaicas' Kimmari Roach from the blocks was a little bit slow, but the pass-over to Julian Forte, went as planned.
Julian Forte at the moment in third passed the baton to Ashmeade, who put Jamaica in second position.
Ashmeade then passed the batton to Bolt, who followed by massive ovations and with powerful and very relaxed strides sprinted by Nigeria's anchorman to finish first in 38.92 seconds.
The first test for Bolt was a success as he saluted his fans and left the stadium to get some rest and prepare for tomorrows final.
The second place in the heat and place to the final took Nigeria, who clocked 39.11 seconds.
The men's 4x100m final is scheduled for Saturday, August 2 at 21.15pm local time.
MEN'S 4x100m RELAY HEAT RESULTS
Men's 4 x 100m Relay Round 1 - Heat 1
Men's 4 x 100m Relay Round 1 - Heat 2
Men's 4 x 100m Relay Round 1 - Heat 3
-->