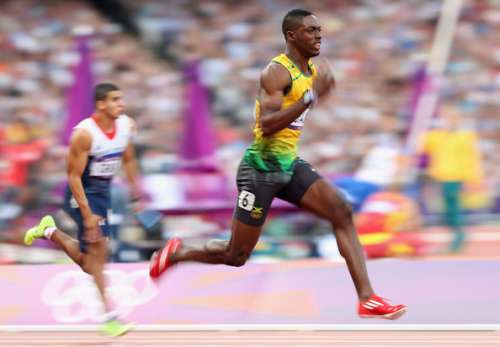 Jamaica's Kemar Bailey-Cole and Nigeria's Blessing Okakbare were crowned Commonwealth Games 100m champions on Monday night in Hantington Park in Glasgow.
the 22-year-old Bailey-Cole, who set the fastest time in the semifinals, won the men's final posting 10.00 seconds with England's 20-year-old Adam Gemili taking silver in 1010 seconds. The podium concluded Jamaican champion Nickel ashmeade, who clocked 10.12 seconds.
Nigeria's world championships 200m bronze medalist, Blessing Okabare smashed the Commonwealth Games record to win the women's 100m final in 10.85 seconds.
Desperate for commonwealth gold, Jamaica's superstar Veronica Cambell-Brown came in second clocking 11.03 seconds with teammate Keron Stewart taking bronze with a mark of 11.07 seconds.
Men's 100m Final
Rank
Competitor
R. Time
Result
1
JAM
K. BAILEY-COLE
0.190
10.00 
2
ENG
A. GEMILI
0.144
10.10 
3
JAM
N. ASHMEADE
0.145
10.12 
4
SKN
A. ADAMS
0.154
10.16 
5
NGR
M. JELKS
0.151
10.17 
6
JAM
J. LIVERMORE
0.139
10.18 
7
BAH
W. FRASER
0.168
10.20 
8
BAR
R. GITTENS
0.158
10.25
Women 100m Final
Rank
Competitor
R. Time
Result
1
NGR
B. OKAGBARE
0.144
10.85 
2
JAM
V. CAMPBELL-BROWN
0.154
11.03 
3
JAM
K. STEWART
0.161
11.07 
4
ENG
A. PHILIP
0.138
11.18 
5
JAM
S. CALVERT
0.141
11.21 
6
ENG
B. WILLIAMS
0.169
11.31 
7
CAN
K. BINGHAM
0.135
11.37 
8
NGR
G. ASUMNU
0.148
11.41