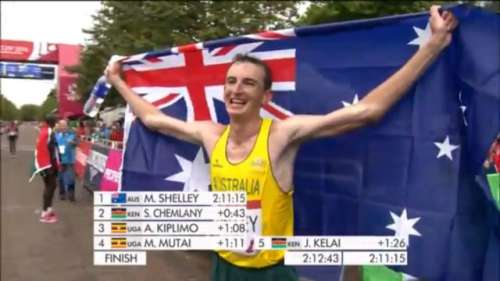 Australian marathoner Michael Shelley shocked East African runners and the whole distance running world by winning the marathon at the Glasgow Commonwealth games on Sunday morning.
The 2:11 marathoner, Shelley, who won silver in 2010 commonwealth games about 3km left in the race pulled away from the leading pack and race favorite Stephen Chemlany and never looked back.
Shelly crossed the finish line in 2:11.15 setting a new personal best while Stephen Chemlany of Kenya took second in 2:11:58 while Uganda´s Abraham Kiplimo after recovering from a bad fall managed to come back and win the bronze medal in 2:12:13.
The women´s marathon race dominated two Kenyan Runners Flomena Cheyech Daniel andCaroline Kilel who finished first and second respectively. Daniel clocked 2:26:45 whoile Kilel was 25 seconds slower. Australian Jess Trengove finished in the bronze medal position clocking personal best time of 2:30:12.
Top 10 Women
Rank
Competitor
1

F. DANIEL KEN Time:2:26:45


2

C. KILEL KEN Time:2:27:10

3

J. TRENGOVE AUS Time:

2:30:12 PB

4

L. MARCHANT CAN Time:2:31:14

5

H. JOHANNES NAM Time:

2:32:02

6

S. PARTRIDGE SCO Time:2:32:18

7
8

M. PANAYIOTOU AUS Time:2:35:01 PB

9

A. WHITEHEAD ENG Time:

2:35:06

10

S. KLEIN AUS Time:2:35:21 PB
Top`10 Men´s Results
1

M. SHELLEY AUS Time:2:11:15 PB

2

S. CHEMLANY KEN Time:

2:11:58

3

A. KIPLIMO UGA Time:2:12:23

4

M. MUTAI UGA Time:2:12:26

5

J. KELAI KEN Time:2:12:41

6

E. NDIEMA KEN Time:

2:13:44

7

L. ADAMS AUS Time:2:13:49

8

P. KIPLIMO UGA Time:2:14:09


9

D. HAWKINS SCO Time:2:14:15

10

S. WAY ENG Time:2:15:16 PB

-->