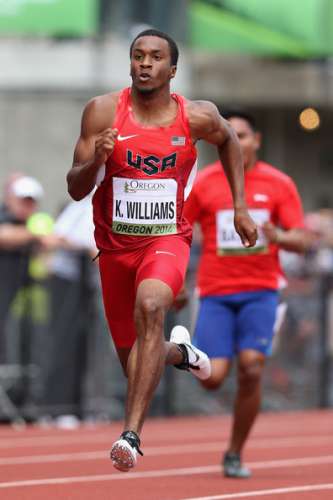 The evening of the second day of the World junior champs in Eugene turned out brilliant for Kendal Williams of the United States as he took a surprise win in the men´s 100m final clocking a new personal best of 10.21 on Wednesday evening.
Kendall´s country man world junior 100m record holder (9.97) Trayvon Bromell came in second with a time of 10.28 seconds with Japan´s sprint talant, Johishide Kiryu, in third in 10.34. In fact, the last time a USA sprinter won 100m world juniors was 10 years ago.

Right before the men´s final was the women´s 100m final in which Great Brittain´s Dina Asher-Smith dominated the race from the gun taking the gold for her country in 11.23 seconds. Ecuador´s Ángela Tenorio took silver in 11.38 seconds while USA´s  Kaylin Whitney won the bronze medal on 11.45.
The women´s long jump world junior crown went to Barbado´s Akela Jones, who leaped in second her attempt 6.34m facing a strong head wind of -2.7ms. Nadia Akpana Assa of Norway took second with 6.31m (wind -0.4), while Germany´s  Maryse Luzolo took bronze with a mark of 6.24m (wind -1.5). The negative wind and cooler temperatures tonight was a major factor of lower performances by athletes all over the competition.
Women´s 5000m race was dominated by East African countries with Ethiopia´s  Alemitu Heroye (15:10.08) and  Alemitu Hawi ( 15:10.46) coming in 1-2 and Kenya´s Agnes Jebet Tirop (15:43.12) taking third. 
Morgan Lake of Great Brittain took the first gold in this championships for her country as she won the women´s heptathlon with a new personal best mark of 6148 points. Cuba´s Yorgelis Rodríguez also passing magic 6000 point marker took the silver with 6006 points and Netherland´s Nadine Visser grabbed bronze with 5948 points.
The men´s decathlon  junior title took Czech Republik´s Jirí Sýkora,  who set an impressive  championship record of 8135 points. Australian Cedric Dubler setting a new national junior record took seconds with Grmany´s Tim Nowak in third  7980 points and also a new national junior record.