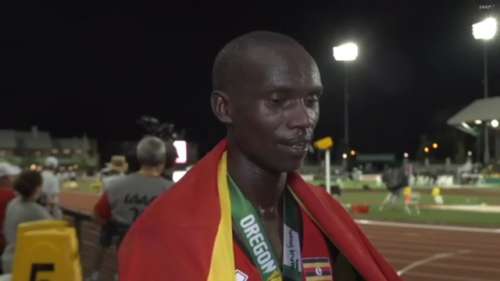 Men´s 10000m was the last event at the opening day of the IAAF World Junior Championships in Eugene, Oregon as Uganda´s  Joshua Kiprui Cheptegei took a confident win on Tuesday evening.
The 17 year old  World Junior season leader Cheptegei (27:56.26) clocked 59 seconds over the last 400m to win the race in  28:32.82. 
The final two spot on the podium went also to African nations as Kenya´s Elvis Kipchoge Cheboi and Nicholas Mboroto Kosimbei took second and third respectively.
Top 6 six places in the men´s 10000m were taken by African nations
Results Men´s 10000m Final
Position

Athlete
Nation

Mark

1
Joshua Kiprui

Cheptegei

UGA
28:32.86


2
Elvis Kipchoge

Cheboi

KEN
28:35.20


3
Nicholas Mboroto

Kosimbei

KEN
28:38.68


4
Afewerki

Berhane

ERI
28:45.83
PB
5
Abdallah Kibet

Mande

UGA
28:53.77


6
Yihunilign

Adane

ETH
28:54.84


7
Keisuke

Nakatani

JPN
29:11.40


8
Hazuma

Hattori

JPN
29:12.74


9
Robleh Djama

Aden

DJI
29:43.49
NJR
10
Carlos

Mayo

ESP
29:52.31
PB
11
Tae-Jin

Kim

KOR
29:53.93
PB
12
Bart

Van Nunen

NED
29:58.90


13
István

Szögi

HUN
30:15.93


14
Miguel

marques

POR
30:23.50
PB
15
Brendan

Shearn

USA
30:24.30


16
Andreas

Jansson

SWE
30:38.81


17
Junhaeng

Jo

KOR
30:43.11


18
Cheng-Hsun

Ho

TPE
30:48.86


19
Noah

Schutte

NED
31:00.94


20
Santiago

Pardo

ESP
31:04.13


21
Giulio

Perpetuo

ITA
31:04.48


22
Jakub

Zemaník

CZE
31:06.76


23
Márkos

Goúrlias

GRE
31:09.95


24
Jonathan

Green

USA
31:15.69


25
Onur

Aras

TUR
31:25.09


26
Mykola

Nyzhnyk

UKR
31:27.03


27
Djamal

Mehbali

ALG
31:29.21


28
Jesse

Hooton

CAN
31:38.78


29
Dominik

Kubec

CZE
31:47.15


30
Sandro

Enriquez

MEX
32:08.44


31
Kristian

Tjørnhom

NOR
32:08.79


32
Jhordan Alonso

Ccope

PER
32:11.42


33
Daniel

Angoma

PER
32:19.66


34
Omar

Guerniche

ITA
32:30.44


35
Lars Jonassen

Føyen

NOR
32:37.73




Saffet

Elkatmis

TUR
DNF




Ahmed

Slimane

ALG
DNF




Abdi Ibrahim

Abdo

BRN
DNF