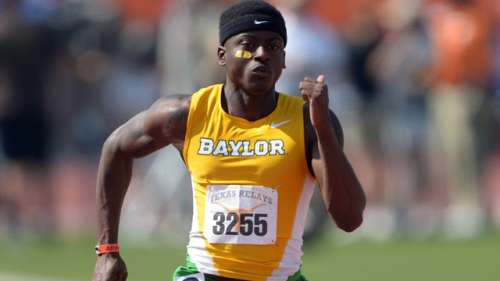 Eugene Oregon - World Junior 100m Record Holder  Trayvon Bromell of the United States dominated men´s 100m preliminary heats at the World junior championships preliminary rounds by settings day´s fastest time of the day of 10.13.
Bromell running in heat 6 running relaxed last 60 meters clocked 10.13 seconds(W 0.7ms).
´´I am happy that I got throught  the round and I just have to keep on focus´´ said Bromell.
Bromell set a world Junior record of 9.97 seconds in June 13 at the NCAA outdoor championships final and he is favorite to win the 100m at the World Junior Champs.
Tomorrow at 6.20pm US Pacific time qualified athletes will run the semi final and the final will be held in the same day  2 hours later.
World Junior Championships Men´s 100m Heats Qualified Athletes
POS
Heat
BIB
ATHLETE
COUNTRY
RESULTS
WIND
1
6
1524
Trayvon

Bromell

USA

10.13

Q

+0.7
2
5
1566
Kendal

Williams

USA

10.23

Q

PB

+1.1
3
1
116
Cejhae

Greene

ANT

10.27

Q

PB

+0.4
4
2
887
Jevaughn

Minzie

JAM

10.32

Q

+1.4
5
3
324
Andre

Azonwanna

CAN

10.33

Q

PB

+1.0
6
3
889
Michael

O'Hara

JAM

10.36

Q

+1.0
6
2
135
Josh

Clarke

AUS

10.36

Q

+1.4
8
1
1438
Jonathan

Farinha

TTO

10.37

Q

+0.4
8
5
371
Youxue

Mo

CHN

10.37

Q

SB

+1.1
10
5
473
Morten Dalgaard

Madsen

DEN

10.38

Q

PB

+1.1
11
7
925
Yoshihide

Kiryu

JPN

10.40

Q

-0.5
12
4
647
Ojie

Edoburun

GBR

10.43

Q

-0.2
13
5
1267
Thando

Roto

RSA

10.44

q

+1.1
13
6
640
Reuben

Arthur

GBR

10.44

Q

PB

+0.7
15
4
229
Levi

Cadogan

BAR

10.45

Q

-0.2
16
2
928
Takuya

Kawakami

JPN

10.46

Q

+1.4
17
6
284
Vítor Hugo

dos Santos

BRA

10.49

Q

SB

+0.7
18
1
833
Luca Antonio

Cassano

ITA

10.50

Q

+0.4
19
1
1361
Silvan

Wicki

SUI

10.55

q

+0.4
20
2
1389
Austin

Hamilton

SWE

10.56

q

+1.4
20
3
1652
Sydney

Siame

ZAM

10.56

Q

+1.0
20
4
481
Stanly

del Carmen

DOM

10.56

Q

-0.2
24
7
422
Yaniel

Carrero

CUB

10.58

Q

-0.5
32
7
1464
Aykut

Ay

TUR

10.71

Q

-0.5