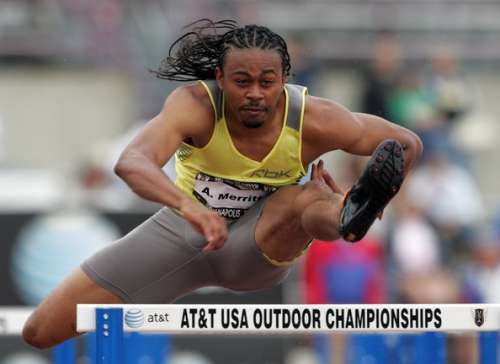 World Record Holder and  Olympic champion in 110m hurdles, Aries Merrit, after battling injuries says he is near 100 percent back with his training and ready for the real season opening race.
Merrit who was sidelined by injuries last season and part of this year, in his first "try-out" race on May 3 in a low key meet posted 13.78 seconds (his WR is of 12.80 is nearly 1 second faster).
"On 3 May I was sick and injured. I wanted to see what I could do. After two hurdles I wanted to finish, but I didn't want to just stop." said 2012 Olympic champion Merrit.
In Monaco Diamond League meet it will be real opening race for the American hurdler as he will face the best hurdlers of this season in the world. 
 "It's good to be back," he said "I am ready to open up and start my season. I've been 100 per cent for about two weeks now.  The last time I raced here, I ran a meeting record of 12.93. So to come back in a place where you have good memories is an advantage." Merrit concluded.
Men's 110m Hurdles Start List
| ATHLETE | DATE OF BIRTH | NATION | PB | SB |
| --- | --- | --- | --- | --- |
| BASCOU Dimitri | 20.07.1987 | FRA | 13.25 | 13.25 |
| MARTINOT-LAGARDE Pascal | 22.09.1991 | FRA | 13.05 | 13.05 |
| MERRITT Aries | 24.07.1985 | USA | 12.80 | 13.78 |
| OLIVER David | 24.04.1982 | USA | 12.89 | 13.21 |
| ORTEGA Orlando | 29.07.1991 | CUB | 13.08 | 13.10 |
| PARCHMENT Hansle | 17.06.1990 | JAM | 12.94 | 12.94 |
| SHUBENKOV Sergey | 10.10.1990 | RUS | 13.09 | 13.13 |
| WILSON Ryan | 19.12.1980 | USA | 13.02 | 13.18 |