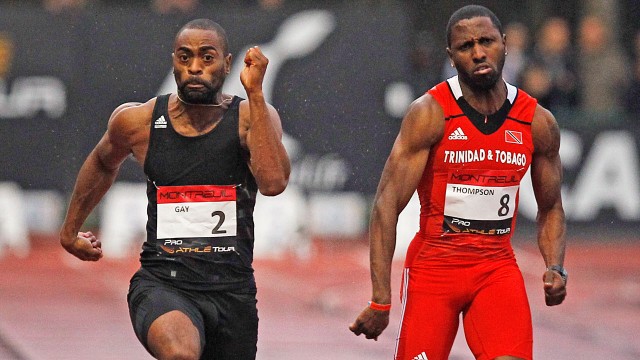 American sprinter Tyson Gay, who was banned for one year for using anabolic steroids won his first 100m race of his comeback in the city of Montreuil  in France on Monday evening.
Tyson Gay clocked a solid 10.04sec beating this years second fastest man in the world Trinidad and Tobago's Richard Thompson, who posted 10.16, and Norway's Jaysuma Saidy-Ndure who ran 10.23 for third.
In the Lausanne Diamond meet last week, Gay was defeated by fellow-American Justin Gatlin in his first race after doping ban. Gatlin won the race with a fast world leading time of  9.80, with Gay in second in 9.93.
Gay was banned in June 2013 after testing positive for a banned anabolic steroid in two out-of-competition tests.
His ban, which was reduced from two years by the United States Anti-Doping Agency (USADA) due to Gay's cooperation, ended on June 23.
Men 100m Results| See Full Meeting Results Here>>

| | | | | | | | | | | |
| --- | --- | --- | --- | --- | --- | --- | --- | --- | --- | --- |
| 1. | | 10.04 | | GAY Tyson (Usa) | | | | | | |
| 2. | | 10.16 | | THOMPSON Richard (Tto) | | | | | | |
| 3. | | 10.23 | | SAIDY-NDURE Jaysuma (Nor) | | | | | | |
| 4. | | 10.32 | | SU Bigtian (Chn) | | | | | | |
| 5. | | 10.33 | | ROACH Kimmary (Jam) | | | | | | |
| 6. | | 10.36 | | BROWN Kemarley (Jam) | | | | | | |
| 7. | | 10.54 | | ROMAIN Ken | | | | | | |