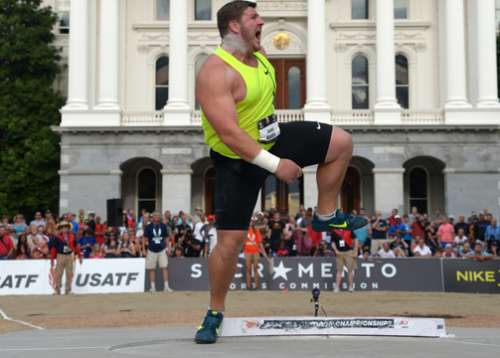 The first day of the USA National Championships kicked off on Wednesday with the men's and women's shot put contest at the California State Capitol in downtown Sacramento.
A big surprise came from the 24 year old Joseph Kovacs, who  in front of 5,500 fans won his first national title with an impressive toss of 22.03m in the fifth round. Kovacs set a new world leading mark and improved his previous personal best mark he achieved on May 18 in Shanghai by 51cm.
Second place with a mark of 21.47m took Kurt Roberts, while the podium concluded the 36 year old Reese Hoffa, who in his best try reached 20.78m mark.
The women's contest was won by Michelle Carter who managed to throw 19.45m. Felisha Johnson took second with 19.18m and Tia Brook with a mark of 18.83m was third.
The 2014 USA track and field championships will continue today. For more info visit the page here.