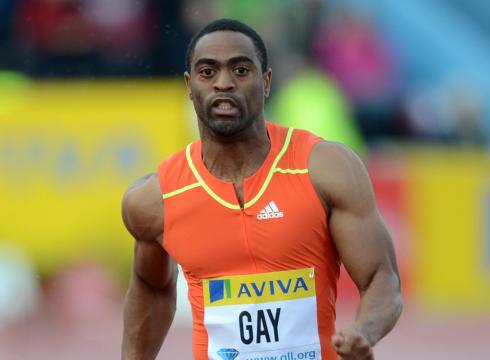 American sprinter Tyson Gay, who was banned for only one year after testing positive for banned anabolic steroid will be under lots of pressure as he will run his first race in the 100m at the Lausanne Diamond League event on 3 July.
"There's still a lot of pressure on him coming back," "It's not just on you as a person but on your family, your friends and your associates. You've got to live in a different comfort zone now." Justin Gatlin told BBC, who is also entered in the meet.
Tyson Gay tested positive last year on June at the USA national championships.
Men's 100m Start List - Diamond League  Atletissima, Lausanne 
| Athlete | DATE OF BIRTH | Nation | PB | SB |
| --- | --- | --- | --- | --- |
| BAILEY Ryan | 13.04.1989 | USA | 9.88 | 10.24 |
| BAILEY-COLE Kemar | 10.01.1992 | JAM | 9.93 | 10.16 |
| COLLINS Kim | 05.04.1976 | SKN | 9.97 | 10.11 |
| GATLIN Justin | 10.02.1982 | USA | 9.79 | 9.86 |
| GAY Tyson | 09.08.1982 | USA | 9.69 | |
| MANCINI Pascal | 18.04.1989 | SUI | 10.28 | 10.28 |
| RODGERS Michael | 24.04.1985 | USA | 9.85 | 10.03 |