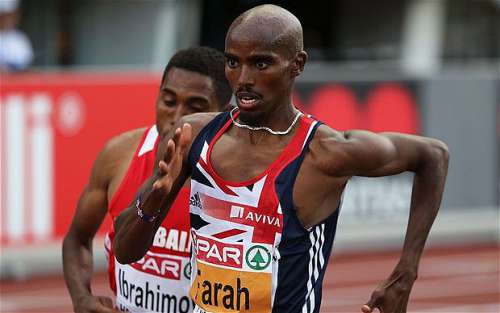 The double Olympic and world champion in 5000m and 10000m Mo Farah returned to  to track with a 5000m race on Sunday night at the Portland Track Festival in Portland, Oregon.
Farah, who ran his first race after finishing 8th at the London marathon in April won the Portland Track Festival's men's 5000m High Performance race with a time of 13.23.42 seconds clocking blistering 53 seconds over the last 400m. 
Before heading to commonwealth games the Briton is scheduled to compete also at the Diamond League meeting in Glasgow on July 12 in 5000m.
Mo Farah will intend to compete in 5000m and 10000m for England at the Commonwealth games in August in Glasgow.
Men's 5000m High Performance  Results
Event 24  Men 5000 Meter Run High Performance
================================================================
 Meet Record: R 13:19.78  6/9/2012    Dathan Ritzenhein, Nike Or
     USATF-A: A 13:32.00
    Name                    Year Team                    Finals
================================================================
Finals
  1 Farah, Mo                    Nike Oregon Project   13:23.42A
  2 McNeill, David               New Balance           13:28.13A
  3 Rono, Aron                   Wcap                  13:35.80
  4 Stilin, Joseph               Zap Fitness           13:36.21
  5 Keveren, Sean                Ragged Mount          13:39.26
  6 Quigley, Daniel              Oregon Track Club     13:41.37
  7 Pennel, Tyler                Zap Fitness           13:41.56
  8 Peterson, Jonathan           Team Usa Mn/Brooks    13:42.65
  9 Bruchet, Luc                 Point Grey Tfc        13:45.66
 10 Fernandez, German            Nbsv                  13:47.08
 11 Finan, Eric                  Team Usa Minneso      13:47.83
 12 Dahlberg, Scott              BoulderRunCo/adidas   13:56.94
 13 Kwiatkowski, Chris           Pacers New Balance    13:58.67
 14 Reid, Phillip                Asics Aggie           13:59.02
 15 Britt, Barry                 Vandal Track Club     14:01.38
 16 Puskedra, Luke               Nike Oregon Project   14:01.48
 17 Zarda, Zach                  Unattached            14:13.05
 18 Halsted, Trevor              Unattached            14:21.59
 19 Gildea, Sean                 Colorado Sch          14:34.39
 -- Smail, Nouredine             American Dis               DNF