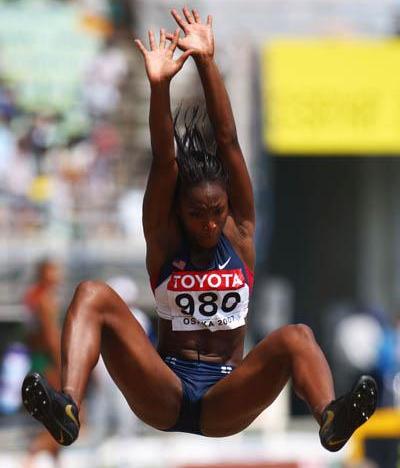 The USA  long jumper Tianna Bartoletta-Madision set new world leading mark in the women's long jump of 6.93m at the IAAF World Challenge International Meeting Mohammed VI on Sunday, June 8.
The  London Olympics 4x100m champion after failing the first attempt in the second round landed at the 6.93m mark setting new personal best defeating compatriot Funmi Jimoh 6.74m and Russian long jump star Olga Kucherenko 6.70m.
Another spectacular performance came in the women's 1500m, where  Ethiopia's 18 year old Dawit Seayum won the event with a massive 3:59.53 setting a new meeting record and the 6th fastest time this year in the world.
In the women's 400m hurdles  talented South African sprinter held of USA's 2 time World championship medalist Tiffany Williams to win the race in 54.80 seconds. Also,  Williams posted the same time as the winner.
New Zealand's Olympic and World champion Valerie Adams took another win the shot put with a mark 19.69m. In the women's 200m Simone Facy set a new meeting record with a time of 22.70 seconds.
In the men's 100m dash Saint Kits and Navis sprint superstar 37 year old Kim Collins defeated the field with a time of 10.13 seconds.
World 800m champion Mohammed Aman (ETH) out-sprinted in a thrilling finish former 2-time World indoor champion  Abubaker Kaki of Sudan. Aman posted a time of 1:45.58 while Kaki clocked 1:45.61.
Ukraine's  World high jump champion Boghdan Bondareno cleared 2.39m to beat Olympic champion Ivan Ukhov of Russian, who managed only 2.33m for the win.