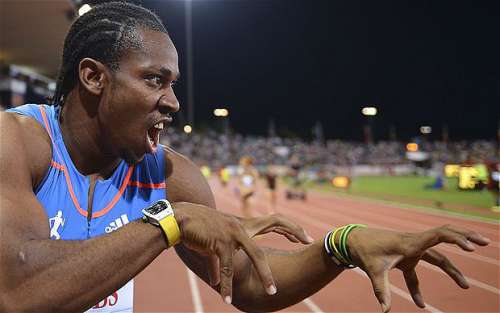 Jamaica's former world 100m champion, Yohan Blake, " The Beast" will open his 2014 sprint season with a 150m street race at the BT Great Manchester City Games on Saturday May 17.
Last July, Blake was forced withdrew from the season and the Moscow World championships due to a nagging hamstring injury and missed out to defend his 100m world title.
This year in April like many Jamaican sprinters,  "The Beast" Blake opened his season in Jamaica with a 400m and a 4x400m relay races.
Blake last night at the press conference admitted that he is nearly 100% ready to kick off the season.
In 2011, Blake shocked many with his 19.26 second performance in 200m at the Bruxelles Diamond League meeting. His 19.26 seconds in 200m is the second all time in the history behind Usain Bolt's 19.19. Also, Blake's 9.69 seconds in 100m is the 3rd fastest in the history.
This Saturday the Jamaican's oponents will be  Chris Brown, known in the Bahamas as 'The Fireman" ,Mark Lewis Francis (GBR) and compatriot Kemar Bailey Cole.
Brown took gold medal in the 4x400m at London Olympics. In march he set a indoor lifetime best and world indoor M35 best of 45.58 to take silver at the World Indoor championships in Sopot.
Great Brittain's Lewis Francis is the 2010 European Silver medalist and  Olympic 4x100m champion.
Jamaican Bailey Cole together with Blake took Gold in 4x100m in London Olympics. He also took gold in 4x100m at the last year's world outdoor championships.