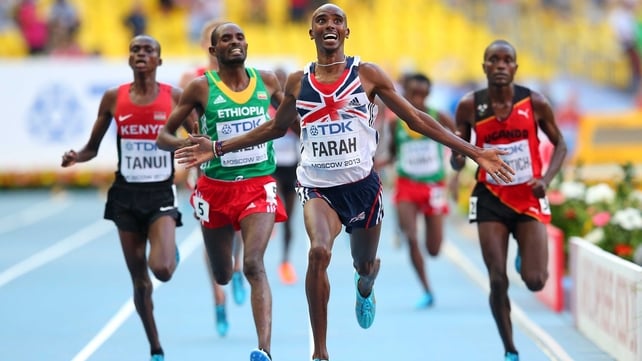 Great Britain's Mo Farah fought hard to claim the 10 000m world title, while Kenya's Edna Kiplaga, became the first woman to defend the world marathon title.
The 30-year-old Farah clocked 27:21.72sec in his first 10 000m race since he won Olympic Gold in London last year. Farah clocking 25 seconds over the last 200m out-sprinted Ibrahim Jeilan of Ethiopia 27:22.23, who defeated Farah for the gold in Daegu 2 years ago. Kenyan Paul Tanui took bronze in (27:22.61) while London Olympics silver medallist Galen Rup of the United States finished in 4th place.
"I had the experience of a couple of years ago. This time I saw Jeilan coming," said Mo Farah.
"I almost went down a few times but I covered every move and me and my training partner (Galen Rupp) worked together."
"I was digging in and digging in, looking across. I knew I had won only when I crossed the line."
Farah will return on track in few days to with an aim to win 5 000m world title.
Edna Kiplagat of Kenya picked up her second consecutive world marathon title as she clocked 2:25:44. Edna Kiplagat is the first women in the history that has succesfuly defended the World Marathon title.
"I'm delighted I was able to defend my title successfully. I got confident I was going to win at the 40km mark when I upped my pace," Kiplagat said.
Valeria Straneo of Italy who was leading the vast part of the race took silver (2:25.58) while Japan's Kayoko Fukushi took bronze (2:27.45).
Men's 10 000 Top Results
1. Mohammed Farah (GBR) 27:21.71
2. Ibrahim Jeilan (ETH) 27:22.23
3. Paul Tanui (KEN) 27:22.61
4. Galen Rupp (USA) 27:24.39
5. Abera Kuma (ETH) 27:25.27
6. Bitan Karoki (KEN) 27:27.17
7. Kenneth Kiprop (KEN) 27:28.50
8. Nguse Amlosom (ERI) 27:29.21
9. Mohammed Ahmed (CAN) 27:35.76
10. Dathan Ritzenhein (USA) 27:37.90
11. Thomas Ayeko (UGA) 27:40.96
12. Imane Merga (ETH) 27:42.02
13. Moses Kipsiro (UGA) 27:44.53
14. Cameron Levins (CAN) 27:47.89
15. Tsuyoshi Ugachi (JPN) 27:50.79
16. Dejen Gebremeskel (ETH) 27:51.88
17. Goitom Kifle (ERI) 27:56.38
18. Chris Derrick (USA) 28:04.54
19. Daniele Meucci (ITA) 28:06.74
20. Stephen Mokoka (RSA) 28:11.61
21. Suguru Osako (JPN) 28:19.50
22. Timothy Toroitich (UGA) 28:33.61
23. Bashir Abdi (BEL) 28:41.69
24. Collis Birmingham (AUS) 28:44.82
25. Yevgeny Rybakov (RUS) 28:47.49
Women's Marathon Results
1. Edna Kiplagat (KEN) 2:25:44
2. Valeria Straneo (ITA) 2:25:58
3. Kayoko Fukushi (JPN) 2:27:45
4. Ryoko Kizaki (JPN) 2:31:28
5. Alessandra Aguilar (ESP) 2:32:38
6. Emma Quaglia (ITA) 2:34:16
7. Mada Prez (MEX) 2:34:23
8. Kim Hye-Gyong (PRK) 2:35:49
9. Deena Drossin (USA) 2:36:12
10. Susan Partridge (GBR) 2:36:24
11. Jessica Trengove (AUS) 2:37:11
12. Diana Lobacevske (LTU) 2:37:48
13. Aberu Kebede (ETH) 2:38:04
14. Kim Hye-Song (PRK) 2:38:28
15. Lishan Dula (BRN) 2:38:47
16. Sonia Thomas (GBR) 2:39:03
17. Sin Yong-Sun (PRK) 2:39:22
18. Dorothy McMaham (USA) 2:39:52
19. Ding Changqin (CHN) 2:40:13
20. Zivile Balciunaite (LTU) 2:41:09
21. Albina Ivanova (RUS) 2:41:19
22. Nadezdha Leonteva (RUS) 2:42:49
23. Jeannette Faber (USA) 2:44:03
24. Lucy Wangui (KEN) 2:44:06
25. Alina Armas (NAM) 2:45:09
26. Alevtina Biktimirova (RUS) 2:45:11
27. Tatyana Aryasova (RUS) 2:45:27
28. Wei Xiaojie (CHN) 2:46:46
29. Kalliópi Astropekáki (GRE) 2:47:12
30. Renalda Kergyte (LTU) 2:47:30
31. Kateryna Karmanenko (UKR) 2:48:18
32. Kim Sung-eun (KOR) 2:48:46
33. Carmen Oliveras (FRA) 2:48:58
34. Cao Mojie (CHN) 2:49:15
35. Renate Wyss (SWI) 2:50:41
36. Karina Cordoba (ARG) 2:51:07
37. Mary Davies (NZL) 2:51:24
38. Iuliia Andreeva (KGZ) 2:53:16
39. Erika Abril (COL) 2:55:13
40. Lauren Shelley (AUS) 2:55:40
41. Karina Neipan (ARG) 2:56:02
42. Tanith Maxwell (RSA) 2:56:37
43. Zuleima Amaya (VEN) 2:58:22
44. Lanni Marchant (CAN) 3:01:54
45. Nicole Chapple (AUS) 3:05:49
46. Daneja Grandovec (SLO) 3:10:46