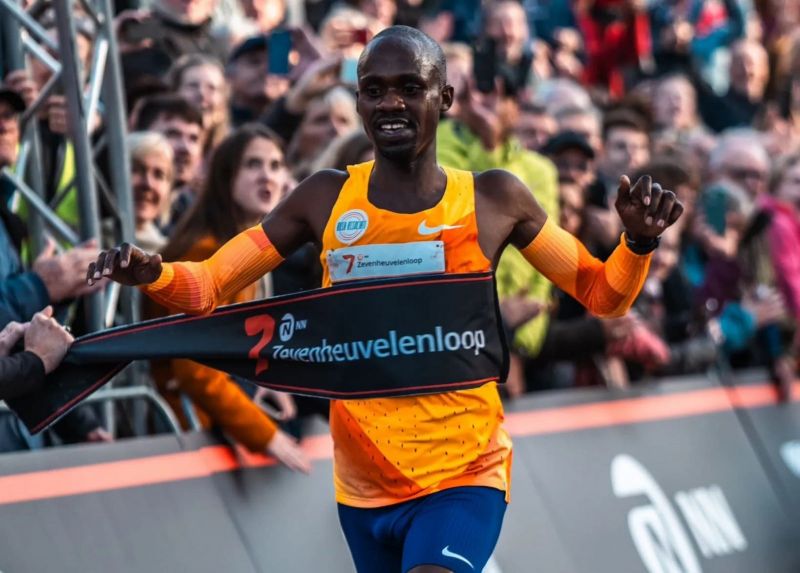 Jacob Kiplimo, the world cross-country champion, delivered a stellar performance at the NN Zevenheuvelenloop in Nijmegen, equaling the world best for the 15km distance with a time of 41:05. This remarkable feat matches the record set five years ago by his compatriot Joshua Cheptegei, underscoring Kiplimo's prowess in long-distance running.
Kiplimo's race strategy was meticulously planned. He started with a conservative pace, allowing other competitors to lead initially. However, Kiplimo's strengths became apparent during a challenging climb between 3.5km and 5km. He navigated this section effortlessly, crossing the 3km mark in 8:42 – only 20 seconds behind Cheptegei's pace from his 2018 record-setting run.
Despite being initially behind, Kiplimo swiftly closed the gap. By the 5km mark, timed at 14:24, he had already started to pull away, leaving compatriot Rogers Kibet struggling to keep pace. From this point on, Kiplimo dominated the race, steadily increasing his lead.
Kiplimo's pace varied throughout the race, at times exceeding and at other times falling slightly behind the course record pace. Nonetheless, his focus and determination were unwavering. His phenomenal performance culminated in a 2:31 final kilometre, the fastest of the race, propelling him to finish in 41:05. This not only secured his victory but also saw him equal Cheptegei's world best time.
-->