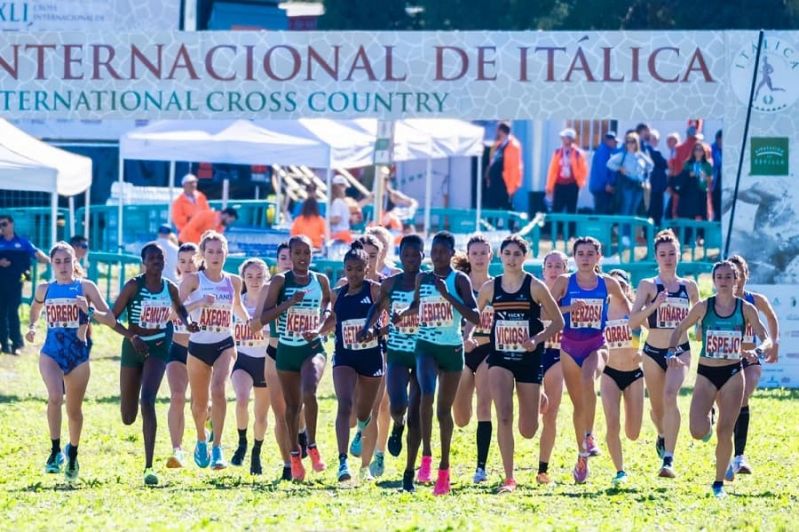 Edinah Jebitok and Ronald Kwemoi secured victories for Kenya in both the women's and men's races respectively at the Cross Internacional de Italica. This event, part of the World Athletics Cross Country Tour Gold for the 2023-2024 season, took place in Santuponce, near Seville, under clear and sunny skies.
Pre-event favourite Beatrice Chebet withdrew from the women's race due to illness.
A leading pack led by 1500 metres specialist Jebitok, Winnie Jemutai, world under 20 champion Senayet Getachew and Wede Kefale from Ethiopia, and Annet Chelangat from Uganda, set a fast pace in the early stages of the race. Amelia Quirk, Kate Axford and Phoebe Barker from Great Britain led the chasing group alongside European under 20 cross country champion Maria Forero and her compatriot Carolina Robles.
Jebitok broke away from the rest of the field at the start of the second lap and built a five-second gap over Getachew and nine seconds over Jemutai.
Getachew caught up with Jebitok at halfway. They ran together in the lead midway during the race. Kefale and Chelangat were further back in the chasing group. Forero and Quirk fighting for the top European top spot in sixth and seventh spot.
Jebitok and Getachew built a 20-second gap ahead of Jemutai.
Jebitok launched her kick in the final lap breaking away from Getachew building a six-second gap. Getachew clawed her way back and overtook Jebitok with 500 metres to go. Jebitok built a few metres ahead of Getachew when she reached the final bend, but she stopped believing that she had crossed the finish-line.
Getachew overtook Jebitok and went to the lead in the home straight, but Jebitok launched her final kick to edge Getachew with the same time of 32:39. Jemutai finished third in 33:37 ahead of Chemutai (33:55) and Kekale (34:28). Forero was the first European athlete in sixth place in 35:06.
"I am satisfied with my European Tour as I have won twice and I was runner-up in Atapuerca. My main goal is to be the overall winner of this season's World Cross Country Tour", said Jebitok.
Men's race:
Ronald Kwemoi set off at a fast pace in the early stages of the race. Only Hillary Chepkwony, world under 20 champion Ishmael Kipkirui, Rodrigue Kwizera from Burundi and Martin Kiprotich were able to keep up Kwemoi's pace. They covered the first lap in 7:07.
Kwemoi, Kiprotich and Kwizera took control of the race and clocked 7:17 in the second lap. World 5000 metres silver medallist Mohamed Katir and 2019 European under 23 cross country bronze medallist Abdessamad Oukhelfen lost the ground after the 6.7 km mark. Five athletes remained in contention at the bell building a five-second lead over Katir.
Kwizera pushed the pace during the final lap. Kwemoi, Kipkurui and Chepkwony remained at Kwizera's shoulder. Kipkurui lost the ground and the race turned into a three-men battle between Kwizera, Chepkwony and Kwemoi. Chepkwony went to the front with 500 metres to go and was ahead of Kwemoi when he reached the final bend. Kwemoi launched his kick to edge Chepkwony with the same time of 29:09. Kwizera finished third in 29:11 beating Kipkirui by five seconds. Katir finished as the top European athlete in sixth place with 29:29 ahead of Martin Kiprotich (29:31).
Kwemoi set the world under 20 record in the 1500 metres in 2014 clocking 3:28.81 in Monaco.
-->