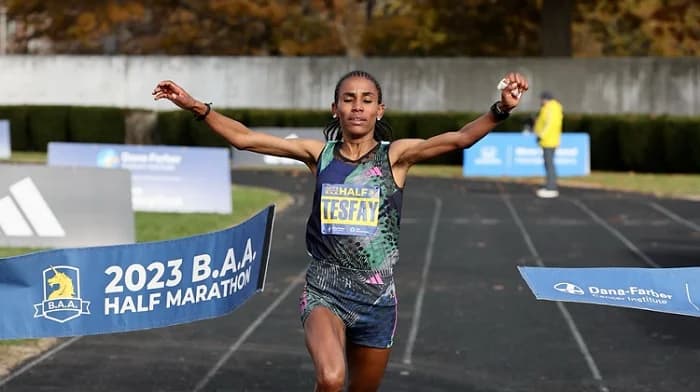 Abel Kipchumba and Fotyen Tesfay secured victories in the B.A.A. Boston Half Marathon amidst tough terrain and weather conditions on Sunday (12).
Kenyan Victor in Men's Race: Abel Kipchumba of Kenya reigned supreme in the B.A.A. Half Marathon, a 13.1-mile challenge through Boston. Braving the cold and the city's notorious hills, Kipchumba emerged victorious with an impressive time of 1:01:32. The race concluded at the iconic White Stadium in Franklin Park. Kipchumba, expressing his joy, highlighted the tough conditions and praised the enthusiastic crowd for their support which fueled his victory.
Ethiopian Dominance in Women's Race: The women's competition saw an Ethiopian trio leading the pack. Fotyen Tesfay clinched first place with a commendable time of 1:08:46. Hot on her heels were compatriots Senbere Teferi and Tsigie Gebreselama. Tesfay, experiencing her first Boston half marathon in unusually cold conditions, maneuvered ahead of a large pack to secure her win.
Close Finish: The event also witnessed a notable performance by Keira D'Amato of the USA, who finished fourth. Remarkably, the gap between Teferi, Gebreselama, and D'Amato was a mere 12 seconds, underscoring the intensity and competitiveness of the race.
-->