Athens Marathon 2023: A Historic Race Awaits as Elites and Amateurs Converge in Greece

Posted by:
Watch Athletics
Thursday, 09 November 2023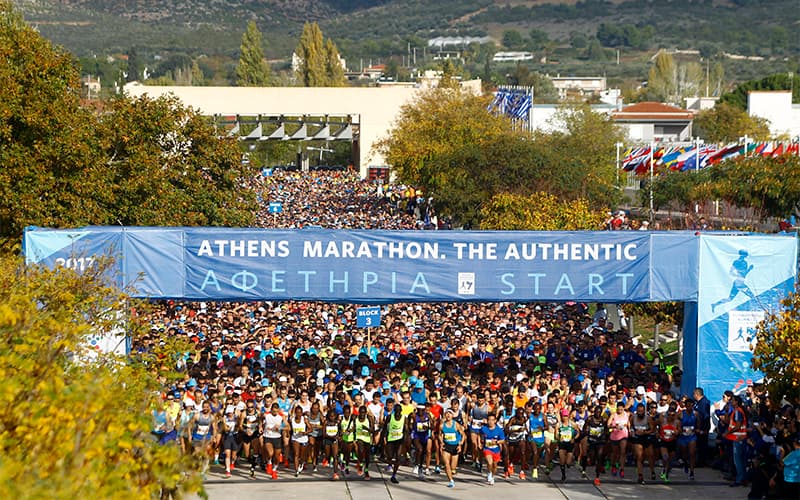 More than 21,000 runners, including elites, are set to participate in the 40th Athens Marathon - the Authentic, taking place on Sunday, November 12. After a two-year break, the elites are returning to the race, and based on the entries, they are expected to deliver outstanding performances. Starting in the city of Marathon, a place etched in history, and concluding in the all-marble Panathenaic Stadium, the event promises to be a spectacle of endurance and history.
One of the standout elite runners to watch out for is Edwin Kiprop Kiptoo from Kenya. This year, he achieved an impressive season's best time of 2.08.56 at the Seoul Marathon. In 2022, he clocked a world-class time of 2.06.52. Kiptoo will be aiming to break the course record set by Kandie Felix in 2014, which stands at 2.10.37. With such remarkable achievements, Kiptoo is undoubtedly a strong contender for the top spot.
Another Kenyan runner, Rhonzas Lokitam Kilimo, has also shown great potential this year, recording a time of 2.08.08 in the marathon. Kilimo will be among the top contenders vying for victory at the Authentic Marathon of Athens. The competition in the men's elite race promises to be fierce, with these exceptional athletes pushing each other to their limits.
In the women's elite race, Caroline Jepchirchir from Kenya holds the best personal record among the participants, with a time of 2.26.11. This year, she achieved a commendable time of 2.27.46 at the Vienna race. Jepchirchir's consistency and impressive performances make her a strong favorite in the women's category.
Vaida Zusinaite-Nekriosiene from Lithuania will also be taking a starting position in the elite race. With a personal best time of 2.36.04, Zusinaite-Nekriosiene has proven her ability to compete at a high level. She will undoubtedly be looking to make her mark and challenge the top contenders.
As the 40th Athens Marathon - the Authentic approaches, anticipation is building for an exhilarating race. With an impressive lineup of elite runners, including Edwin Kiprop Kiptoo, Rhonzas Lokitam Kilimo, Caroline Jepchirchir, and Vaida Zusinaite-Nekriosiene, the stage is set for an unforgettable event. The Athens Marathon continues to captivate participants and spectators alike, showcasing the enduring spirit of this historic race.
-->