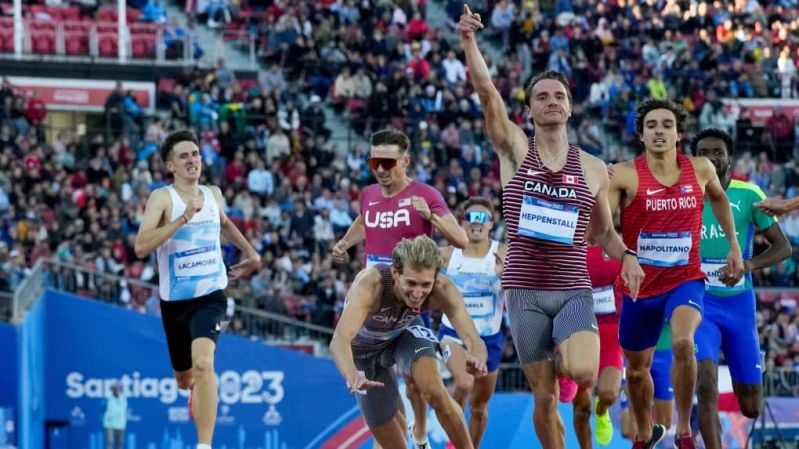 Canada celebrated a significant achievement at the 2023 Pan American Games in Santiago, Chile, with two of its track and field Olympians seizing gold medals in quick succession on Thursday. Charles Philibert-Thiboutot and Sarah Mitton led the charge, each emerging victorious in their respective events.
Philibert-Thiboutot, hailing from Quebec City and aged 32, showcased remarkable determination in the men's 1,500 metres race. In a dramatic finish, he exerted every last ounce of his energy, collapsing over the finish line to narrowly defeat fellow Canadian Robert Heppenstall by a mere 0.02 seconds, clocking in at 3:39.74. This marked Philibert-Thiboutot's second medal in Santiago, following a silver in the men's 5,000 metres — a race in which he originally finished third but was promoted to second place after Mexico's Fernando Martinez was disqualified.
Hot on the heels of Philibert-Thiboutot's win, the 27-year-old Mitton triumphed in the women's shot put. Dominating the field, Mitton's throws were unmatched, with both her fifth and sixth attempts reaching 19.19 metres. Her opening throw itself, which measured 18.90 metres, would have sufficed for the gold as it surpassed her competitors' best efforts. Mitton's closest rival, Rosa Ramirez of the Dominican Republic, secured the silver with a throw of 17.99 metres. Notably, the absence of the World and Olympic champion Chase Ealey of the United States left the field open for Mitton to clinch the title.
These victories not only underscored Canada's prowess in track and field but also brought a sense of national pride to the Canadian team at the Pan American Games.
The gold medals won by Philibert-Thiboutot and Sarah Mitton have propelled Canada past the tally of 35 golds achieved at the 2019 Pan Am Games in Lima, Peru.
-->