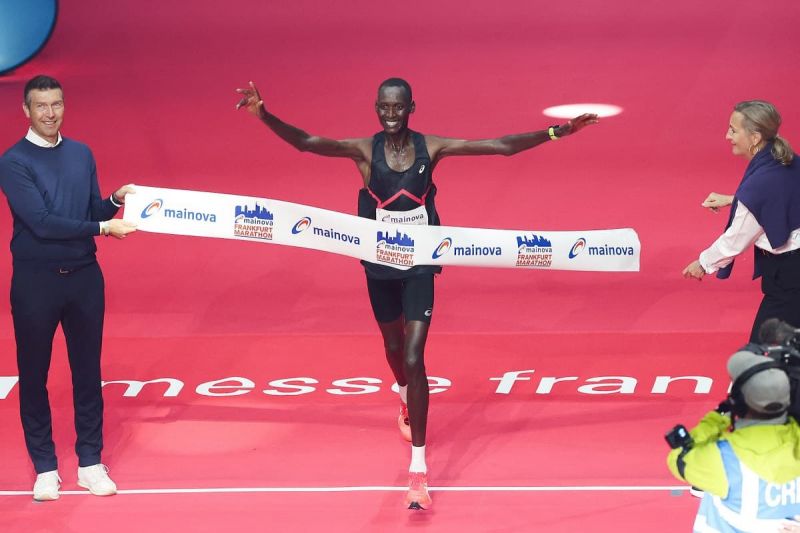 Brimin Misoi and Buzunesh Gudeta were crowned champions of what proved to be the highest quality race in the history of the Mainova Frankfurt Marathon in terms of combined winning times. Misoi of Kenya retained the men's title in the 40th anniversary event, crossing the finish line in the Festhalle in 2:04:53, the second fastest performance ever in the race's history. He became the first man since compatriot Wilson Kipsang won two consecutive Mainova Frankfurt Marathon titles, beginning in 2010. The Ethiopians Mulugeta Uma and Guye Adola finished second and third in 2:06:47 and 2:0:7:44 respectively.
In windy and wet conditions, Buzunesh Gudeta achieved the second fastest women's time ever in the event with 2:19:27, missing the course record by 17 seconds. Winfridah Moseti made a big improvement on her own personal best to finish second in 2:20:55 while her fellow Kenyan Sharon Arusho also ran her fastest ever marathon for third place in 2:22:07. Five women broke 2:25, making this one of the best women's races in terms of strength in depth in the race's history. The first four all set personal bests.
The combined winning times of the women's and men's champions came to 4:24:20, the fastest aggregate time ever in Frankfurt. The 40th anniversary race had 13,258 participants from 115 countries. Taking into account events held in conjunction with the marathon, the organizers had a total of 24,293 participants.
"I'm very happy with the anniversary edition and take my hat off to our top athletes. Given the conditions, they've produced excellent times," said race director Jo Schindler, while the new co-ordinator of the elite field, Philipp Kopp, taking over the role from his late father Christoph, reflected on a successful start: "Despite the difficult conditions, we've seen top level, international performances. That says a lot for Frankfurt and its fast course. From 35 kilometres it wasn't easy with a headwind and rain and the road surface was also very slippery."
Men's Race
Brimin Misoi retained his title as Frankfurt champion: "It's a great feeling to have won here for a second time. From 35 kilometres it was tough," commented the men's winner. Last year's champion triumphed with a personal best of 2:04:53. He was looking to make a decisive move soon after going through halfway in 61:38. When he increased the pace at 23 kilometres, only the Ethiopian Guye Adola was able to go with him. Five kilometres later, Misoi had also dropped him.
For a long time Brimin Misoi was on schedule to break the course record of 2:03:42, set by Wilson Kipsang in 2011. But in the final five kilometres the weather conditions with wind and increasing rain took their toll. The Kenyan's victory was, however, never in doubt. By the time he was on the red carpet in the Festhalle, running towards the finish line, he had a lead of almost two minutes.
Simon Boch of Germany finished as the best European though also with disappointment. In the first half he was on course to run under the Olympic qualifying time of 2:08:10. He went through halfway in 63:59 but by 30 kilometres he had lost time and was then clearly slowing down. "Unfortunately I never felt really good in the race. Our group had broken up by the 30k mark," explained Boch, who finished ninth in 2:12:32.
Women's Race
Bizunesh Gudeta ran close to the course record with an outstanding performance in the event's 40th edition. The 26-year-old took a big slice off her personal best with 2:19:27, an improvement of more than three minutes. "I never thought that I could produce a performance like that. I've never been so happy."
Over the second half she increasingly took charge of a tight leading group. Kenya's Winfridah Moseti was able to stay with her until 25 kilometres. Gudeta then attacked again and from there was unchallenged in the lead and for a time also had her sights on the course record. Ultimately she finished 17 seconds outside Valary Aiyabei's performance of 2019. That didn't quell the celebrations inside the Festhalle. Gudeta led the way by dancing, once across the finish line, still wearing one shoe while waving with the other in her hand. There were also strong performances behind her: Winfridah Moseti finished second in 2:20:55 and fellow Kenyans Sharon Arusho and Viola Jelegat Kibiwott took third and fourth in 2:22:07 and 2:22:57 respectively and all setting personal bests.
For much of the race Miriam Dattke of Germany was running the kind of tempo which would bring her a finishing time of 2:24 to 2:25. She went through halfway in 72:11 and was still on that schedule at 30 kilometres. She then slowed markedly over the last 10km but struggled on to finish eleventh in 2:28:12. As with her compatriot Simon Boch among the men, Dattke finished as the leading European woman.
Results, Men:
1 Brimin Misoi KEN 2:04:53
2 Mulugeta Uma ETH 2:06:47
3 Guye Adola ETH 2:07:44
4 Albert Kangogo KEN 2:08:10
5 Dominic Letting KEN 2:08:23
6 Isaac Lelei KEN 2:09:32
7 Frederick Kibii KEN 2:09:33
8 Edwin Tuitoek KEN 2:12:16
9 Simon Boch GER 2:12:32
10 Soufiyan Bouqantar MAR 2:12:44
11 Mario Bauernfeind AUT 2:12:49
12 Tom Anderson GBR 2:12:52
Women:
1 Buzunesh Gudeta ETH 2:19:27
2 Winfridah Moseti KEN 2:20:55
3 Sharon Arusho KEN 2:22:07
4 Viola Kibiwott KEN 2:22:57
5 Agnes Keino KEN 2:23:44
6 Paskalia Jepkogei KEN 2:26:14
7 Visiline Jepkesho KEN 2:26:20
8 Naom Jebet KEN 2:26:48
9 Magdalyne Masai KEN 2:27:19
10 Medina Armino ETH 2:27:54
11 Miriam Dattke GER 2:28:12
12 Viktoriia Kaliuzhna UKR 2:28:23
13 Matea Parlov Kostro CRO 2:28:37
Further information can be found at: www.frankfurt-marathon.com
-->