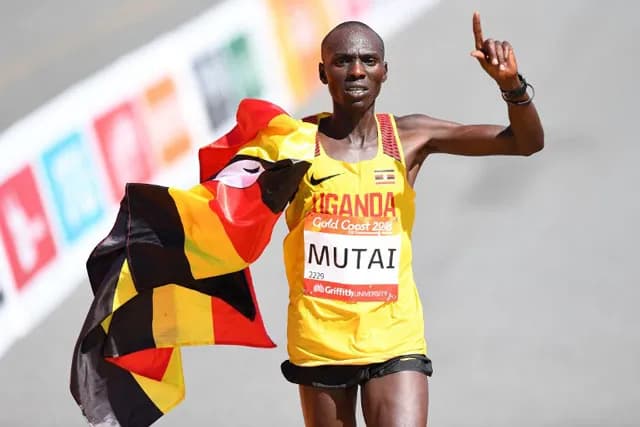 In the iconic city of Venice, history was rewritten. Under a bright and sunny sky, Uganda's Solomon Mutai defended his title at the Wizz Air Venice Marathon and broke his own course record, setting a new time of 2:07:41. The women's race was dominated by Kenya's Rebecca Tanui, who cruised to victory with a time of 2:25:35.
Men's Race Recap:
The race began with a strong ensemble of pacemakers and elite runners. They maintained a swift pace, crossing the 5 km, 10 km, and 15 km marks in 15:05, 30:03, and 45:11 respectively. As the race progressed, contenders started to drop off, and by the halfway mark, only nine runners remained in contention.
In a strategic move, Mutai, along with Naibei and Kigen, decided to push the pace post the 30 km mark. The decisive breakaway came on the Liberty Bridge, where Mutai and Naibei distanced themselves from Kigen.
A thrilling showdown ensued in the historic heart of Venice as Mutai and Naibei sprinted side-by-side. But it was Mutai who clinched victory in a breathtaking finish, both clocking in at 2:07:41, with Naibei settling for second. Noah Kigen Kiprotich of Kenya rounded out the podium in third place with a new personal best of 2:08:18.
Reflecting on his win, Mutai stated, "I used my experience from last year. The race was very competitive. I am grateful to the organizers."
Women's Race Review:
Kenya's Rebecca Tanui, alongside Ethiopia's Kebene Chala, set a scorching pace from the outset. They passed the halfway point together in 1:11:37. However, Tanui started to pull away after 30 km, creating a 14-second lead over Chala.
Navigating the tricky terrains and bridges of Venice, Tanui extended her lead to 35 seconds by the 35 km mark. She eventually crossed the finish line in 2:25:35, not far off from her personal best. Chala followed in second place, clocking a commendable 2:26:38, a personal best. Ethiopia's Bedada Tigist secured the third spot in 2:28:06.
Tanui commented on her experience, saying, "I was aware that I had to run across 14 bridges but did not expect such a challenging course in the final kilometres."
This year's Venice Marathon once again showcased sheer determination, endurance, and exceptional athletic prowess. The scenic backdrop of Venice, with its bridges and canals, added an extra layer of challenge and charm to the race. With performances like these, the Venice Marathon continues to be a calendar highlight for elite runners and fans alike.
-->