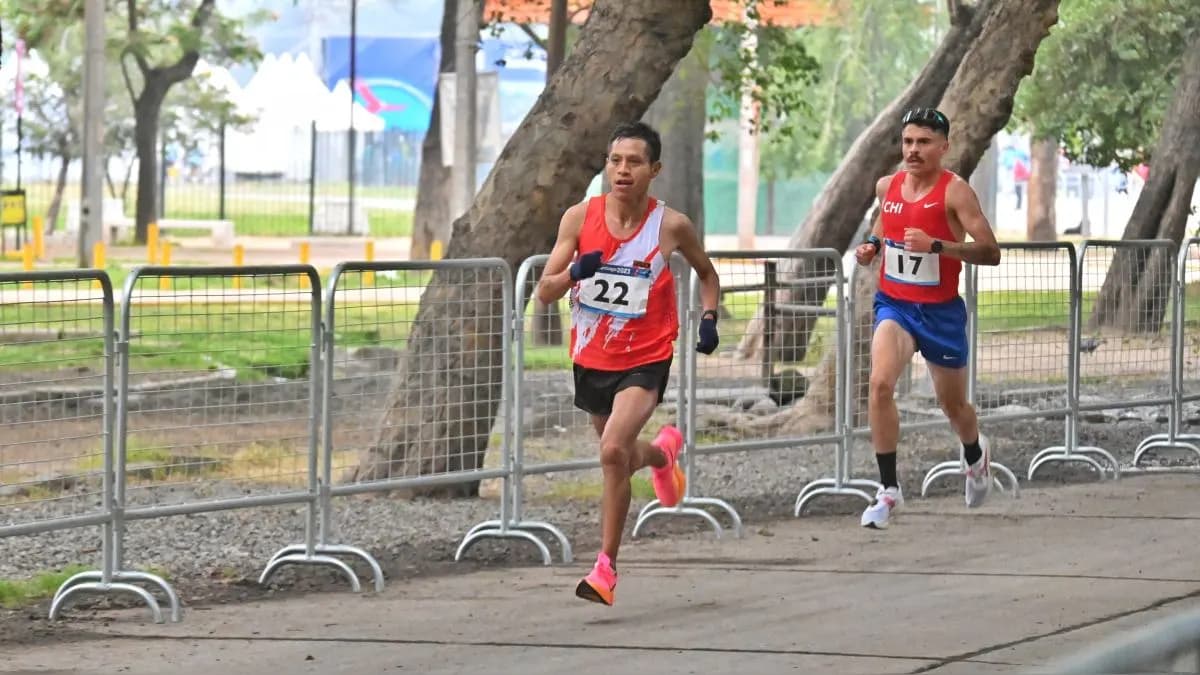 Pan American Games Santiago 2023 men's and women's marathon results.
Cristhian Pacheco of Peru has clinched the marathon title for the second time at the Pan American Games in Santiago, Chile.
Clocking in at 2h 11m 14s, the 30-year-old Peruvian powerhouse outpaced Chile's Hugo Catrileo, who finished with a commendable time of 2:12:07 and garnered immense local support en route to winning the silver medal. The podium was further graced by Luis Ostos, another talent from Peru, who bagged the third position in the race.
In the women's event, Christian Citali made a dramatic last-kilometer surge to overtake Argentina's Florencia Borelli, securing the Pan American gold with a new Games record of 2:27:12. Borelli, having held the lead for the majority of the race and clocking 1:11 at the halfway point, earned the silver with a time of 2:27:29. Peru's defending champion, Gladys Tejeda, completed the podium, finishing in 2:30:39.
Event Date: Sunday, October 22
Men's Marathon
1. PACHECO Cristhian Simeon - PER - 2:11:14
2. CATRILEO Hugo Edgardo - CHI - 2:12:07
3. OSTOS Luis Fernando - PER - 2:12:34
4. SILVA Matías Andrés - CHI - 2:14:16
5. DE OLIVEIRA Johnatas - BRA - 2:14:51
6. PAULA Paulo Roberto - BRA - 2:15:20
7. ABREU Alvaro Luis - DOM - 2:15:27 +4:13
8. CASTILLO Patricio - MEX - 2:20:06
9. WILEY Turner - USA - 2:20:25
10. AYALA Derlys - PAR - 2:22:29
11. FLORES Hesiquio - MEX - 2:26:20
GOMEZ Pedro Luis - ARG - DNF
CUESTAS Ronal Nicolas - URU - DNF
ZAMORA Ernesto Andres - URU - DNF
Women's Marathon
1. CRISTIAN Citlali - MEX - 2:27:12 PR
2. BORELLI Florencia - ARG - 2:27:29
3. TEJEDA Gladys Lucy - PER - 2:30:39
4. LOAYZA HUAMAN Aydee - PER - 2:30:55
5. CHACHA Rosa Alva - ECU - 2:31:01
6. BIYAKI Risper - MEX - 2:32:13
7. ALVAREZ Giselle Constanza - CHI - 2:37:21
8. DOS SANTOS SILVA Valdilene - BRA - 2:38:40
9. HESSEL Andreia Aparecida - BRA - 2:39:53
10. KUSANOVIC Danica Slavka - CHI - 2:42:31
11. RAMOS Beverly Sue - PUR - 2:46:22
12. ROMERO Fatima - PAR - 2:56:56
-->