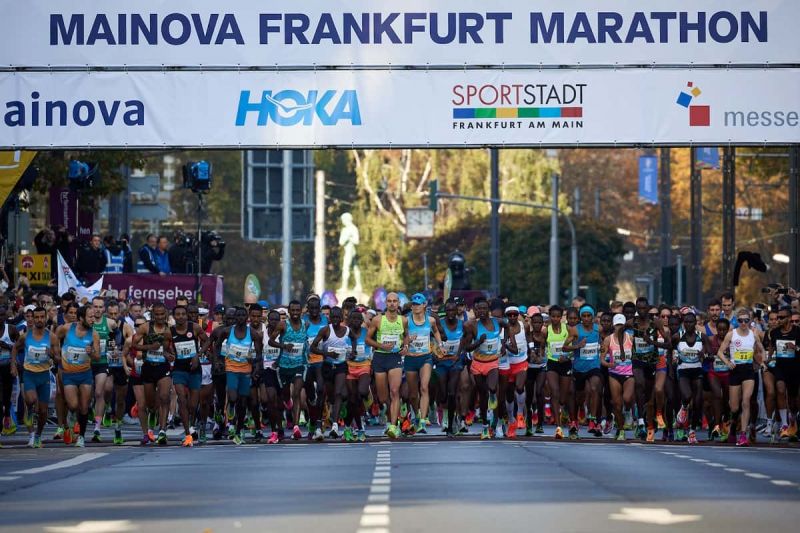 Anticipating the 40th edition of the Mainova Frankfurt Marathon scheduled for October 29, the race for medals at the forefront promises intense and high-speed competition. Last year's men's champion, Brimin Misoi, is set to renew his rivalry with the runner-up, Samwel Mailu, who arrives in Frankfurt with recent outstanding form. In addition to these Kenyan contenders, Guye Adola from Ethiopia, boasting a personal best of 2:03:46, is one of the swiftest athletes ever to participate in the Mainova Frankfurt Marathon. The women's race also foresees a closely contested competition with five contenders, all boasting personal best times under 2:23:00. Notably, two new additions to the lineup are Simon Boch, representing the men's field, and Miriam Dattke, who secured fourth place in the European Championships last year in the women's event—both are among Germany's top long-distance performers. They are determined to capitalize on Frankfurt's historically rapid course to qualify for the Olympic Marathon in Paris next year.
Including all the events held in conjunction, the organizers expect approximately 25,000 participants for the 40th Mainova Frankfurt Marathon, with 13,000 of them taking on the marathon itself. It's worth noting that the Mainova Frankfurt Marathon holds an Elite Label Race designation from World Athletics, the sport's governing federation. Entries are still open at www.frankfurt-marathon.com.
Jo Schindler, the Race Director of the Mainova Frankfurt Marathon, expressed his hope for an exhilarating race, given the strong elite fields. Frankfurt has a tradition of success for German top runners, and with the addition of Simon Boch and Miriam Dattke, that tradition is expected to continue.
One of the top contenders, Samwel Mailu, has exhibited excellent form in the lead-up to Frankfurt, earning a surprise bronze medal at the World Half Marathon Championships in early October, with an improved personal best time of 59:19. This performance suggests he is primed for a fast race along the River Main. Competing against him, Guye Adola (2:03:46 personal best), defending champion Brimin Misoi (2:06:11), and Ethiopia's Mulugeta Uma (2:06:07) will need to be in their best form to challenge him.
Simon Boch could potentially create a surprise by securing one of the three slots on Germany's men's team for the Olympic Marathon. He has demonstrated significant improvement this year, achieving a time of 2:09:25 in Linz.
Among the women's field, Visiline Jepkescho from Kenya stands as the fastest, with a personal best of 2:21:37. However, there are six other strong contenders vying for the title. This includes the reigning champion of the Vienna City Marathon, Magdalyne Masai, with a personal best of 2:22:16, and her fellow Kenyan, Agnes Keino, who set a course record in Munich a year ago with 2:23:26. Additionally, Winfridah Moseti of Kenya, who has a personal best of 2:23:38 and an impressive 66:40 time at the Copenhagen Half Marathon, adds to the excitement with her promise in the marathon.
Two more formidable contenders in the women's race are European silver medallist Matea Parlov Kostro from Croatia (2:25:45 personal best) and Britain's Steph Twell (2:26:40). Four years ago in Frankfurt, Twell achieved the Olympic qualifying time for Tokyo. Notably, Miriam Dattke, a recent addition to the lineup, has shown potential for even greater performance in the marathon. Her impressive fourth-place finish at last year's European Championships in Munich and her current best time of 2:26:50 highlight her capacity to achieve faster times in the future.
MEN ELITE:
Guye Adola ETH 2:03:46
Samwel Mailu KEN 2:05:08
Mulugeta Uma ETH 2:06:07
Brimin Misoi KEN 2:06:11
Albert Kangogo KEN 2:07:48
Dominic Letting KEN 2:09:16
Simon Boch GER 2:09:25
Archie Casteel SWE 2:10:49
Tom Anderson GBR 2:12:07
Dominic Kiptarus KEN 2:12:46
Frank Schauer GER 2:13:41
WOMEN ELITE:
Visiline Jepkesho KEN 2:21:37
Magdalyne Masai KEN 2:22:16
Buzunesh Gudeta ETH 2:22:38
Paskalia Jepkogei KEN 2:22:47
Meseret Meleka ETH 2:22:52
Agnes Keino KEN 2:23:26
Winfridah Moseti KEN 2:23:38
Naom Jebet KEN 2:24:33
Viola Kibiwott KEN 2:24:54
Sharon Arusho KEN 2:25:20
Ayantu Demissie ETH 2:25:44
Matea Parlov Kostro CRO 2:25:45
Medina Armino ETH 2:26:12
Stephanie Twell GBR 2:26:40
Miriam Dattke GER 2:26:50
Viktoriia Kaliuzhna UKR 2:27:05
-->